ESPN recently spotlighted the next generation of basketball stars, releasing a list of the Top 25 players for the Class of 2023. Many talented young athletes are featured on the list, including standouts LeBron "Bronny" James Jr., Mikey Williams and D.J. Wagner.
The future hoops stars of tomorrow 🏀

Here's the first look at the ESPN Top 25 for the class of 2023. pic.twitter.com/cJVOvCiE4C

— ESPN (@espn) June 9, 2020
Bronny James, the eldest son of NBA icon LeBron James, is ranked #24 on the list. A 15-year-old rising sophomore, Bronny plays for Sierra Canyon High School in California. Although Bronny is a talented and versatile basketball player, his ranking could be considered low compared to the attention he receives as the son of the best NBA player of this generation. However, rankings change consistently, and Bronny has the potential to earn a higher spot on a future ranking.
Moving much farther up the list, Mikey Williams is ranked at #3. Williams plays guard for San Ysidro High School in California, and though he is only 15-years-old, he is already built for Division I basketball. Standing at 6'2″, Williams combines power and flair, playing above the rim and possessing uncanny explosiveness. In fact, some fans believe that Williams should actually be #1 on the list. In any case, his talent has drawn much attention, and although Williams has already received offers from prestigious schools such as Kansas, USC and UCLA, he is considering attending an HBCU in the future.
Meet DaJuan "D.J." Wagner Jr., the #1 ranked player of the Class of 2023. Wagner plays for Camden High School in Camden, New Jersey (In fact, four of the Top 20 players on the list are from New Jersey). Wagner is an exceptional scorer, an excellent ball handler and can dominate from all over the court. Basketball excellence runs deep in D.J. Wagner's family, as his father, DaJuan Wagner, scored a state-record 3,462 points during his time at Camden High, was a McDonald's All-American and was the #6 overall draft pick for the 2002 NBA Draft. D.J.'s grandfather, Milt Wagner, was also a Camden High legend, a McDonald's All-American and he even won an NBA championship with the Los Angeles Lakers in 1988. D.J. may only be 15, but he has plenty of time and potential to become even better than he already is; as he works to carry on his family legacy of basketball greatness.
DJ Wagner is the #1 ranked player in the class of 2023 according to @espn rankings that just dropped! pic.twitter.com/HBxq6bYNCD

— Ballislife.com (@Ballislife) June 10, 2020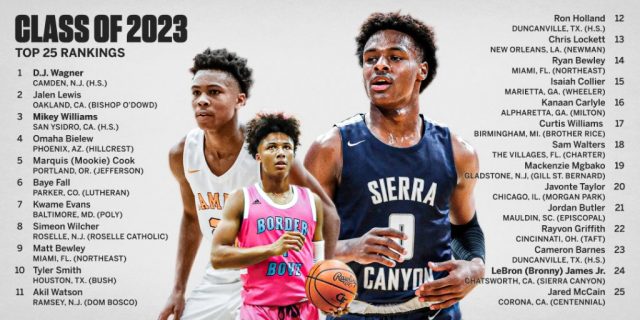 Photos: ESPN/ Instagram