We watch her YouTube channel, Quick Fix, every week where we learn everything from cooking to how she manages a booming career along with parenting duties. Now, Tia Mowry tells us about her partnership with Quaker Oats, which offers participants the opportunity to win $1,000 just for creating an original recipe! Mowry also shares a few of her favorite things to do for the holidays. Check out the EXCLUSIVE interview below!
Can you tell us more about your partnership with Quaker Oats?
I always have been a huge fan of Quaker. When I think of my childhood, I was always eating Quaker Oats. Now that I'm an adult, it's something that I still have in my pantry year-round. As we head into the colder months, Quaker is providing inspiration for unique new ways to enjoy the endless possibilities of oats through a recent survey that uncovered breakfast trends from across the country. I'm also excited about their recipe contest going on right now. Cooking is so much fun, and I want to encourage and inspire my fans to get into the kitchen.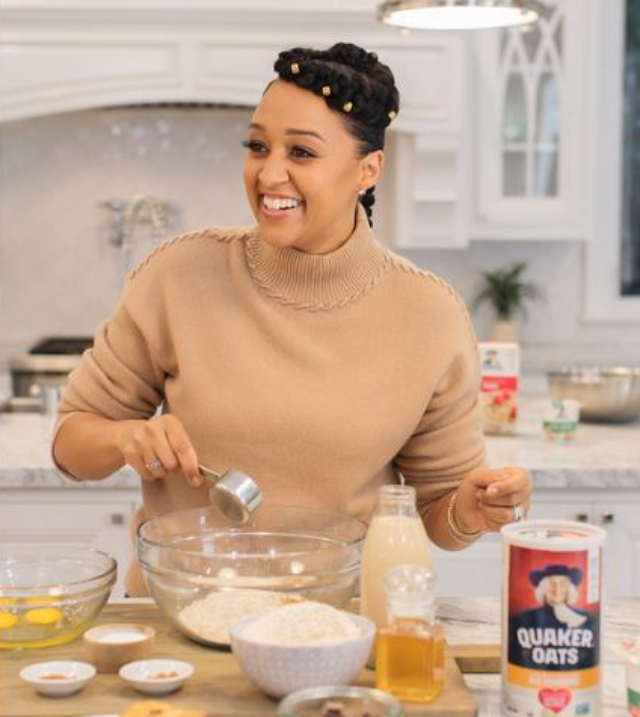 By coming up with their own original recipe using any Quaker products and submitting it to CookwithQuaker.com, they'll have the chance to win $1,000 in one of the daily drawings. Plus, what I think is even cooler, there's also a chance to have your recipe published in a Quaker Oats cookbook. To learn more, visit CookwithQuaker.com.
What are your thoughts about breakfast as the most important meal of the day?
Today's society is all about self-love and self-care. I think everyone wants to be their best self. That means eating well and gathering family around the table. Breakfast is the perfect moment to enjoy together time before the hustle and bustle of the day begins.
You have given us the opportunity to share in some of your family's holiday traditions via your Quick Fix series on YouTube. Can you share more of what your family loves to do for the holidays?
I'm totally a family person! Growing up, my family always came together to laugh, eat, watch television, travel. You name it. But one of the best things that I've carried through into adulthood is cooking breakfast together. Quaker recently found in a survey that Americans feel nostalgic when it comes to breakfast and are inspired by foods that remind of them of their childhood – and I couldn't agree more! As a child, the whole family would come together in the kitchen and help make pancakes on the holidays. It's one of the reasons I chose to create the Banana Oat Chocolate Pancake recipe as part of my partnership with Quaker. It just reminds me of all of the great memories spent with my family during the holiday season.
We met your assistant during a Quick Fix episode a few weeks back where you discussed the importance of organization when balancing motherhood with your career. Can you share other tips for moms looking to create a healthy balance between home and work?
I wish someone would have told me that you worry 24/7. There is not a time that you are not thinking or not worrying or just thinking about their happiness. I sleep with one eye open and I wish someone would have told me about that. That's completely normal and something you'll have to get used to!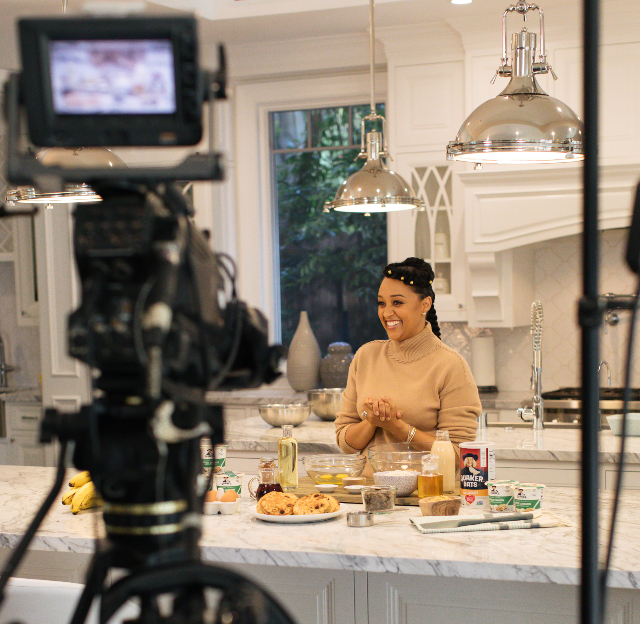 What was the inspiration behind you deciding to launch Tia Mowry's Quick Fix? How did you come up with the name? How do you determine which topics you want to discuss? Do you ever see 'Quick Fix' evolving into a home goods brand?
Everyone has dilemmas in their everyday lives. As a mom, I want to help solve those dilemmas. I wanted to create a fun series to offer practical advice for people looking to make life a little bit easier. As for whether it will develop into a home brand, you never know. I don't have any plans at this moment but who knows what will happen down the road.
Flip over to the next page to continue reading!