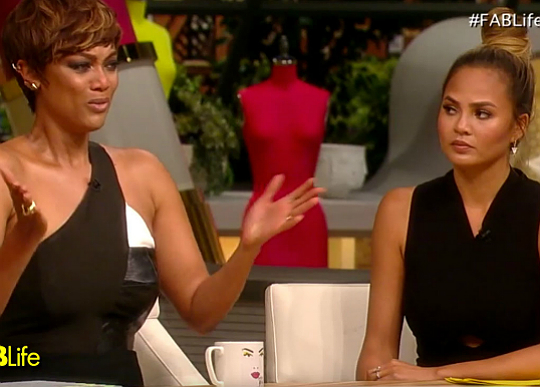 Tyra Banks' new show, FabLife, is tackling all of the difficult questions, including those that have to do with fertility. Tyra and co-host Chrissy Teigen recently opened up about their struggle with starting and expanding a family during a segment on the new series.
"I will say, honestly, John and I are having trouble," said Chrissy who has been married to singer John Legend for two years. "We would have kids five, six years ago if it'd happened. But my gosh, it's been a process!"
Tyra Banks also chimed in by sharing her struggles with fertility. "I am so tired of seeing on my social media, 'Why don't you have kids? Why don't you have kids?' You don't know. You don't know what I'm going through," said the model.
She further explained, "When I was 23 years old, I used to tell myself, 'In three years I'm gonna have kids.' Then I turned 24. 'In three years I'm gonna have kids.' And then just every single year I kept saying that. And then, after a while it's like, OK, now I want to—and it's not so easy."
Watch the clip!