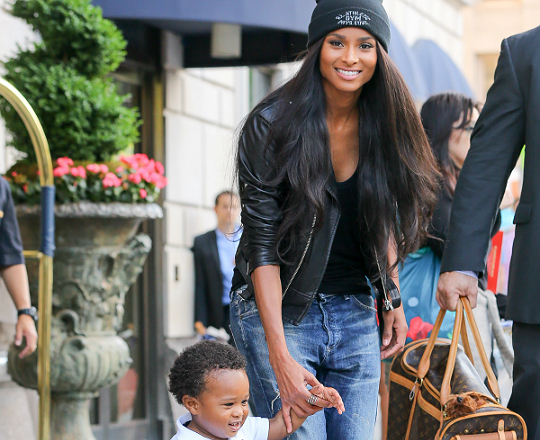 Get ready for cuteness! Ciara was recently spotted in New York City with her son, Future, and the little one definitely stole the spotlight.
Little Future waved at photographers while they took pictures of him and his mom leaving their hotel. The youngster was smiling from ear to ear while walking alongside Ciara who was looking every bit fabulous in casual wear.
The 'I Bet' singer recently shared the secret to her incredible post-pregnancy weight loss during an interview with Shape magazine. "When I was pregnant with Future, one thing I learned quickly was, don't ever let a pregnant lady be hungry, because when I was, I was like the Tasmanian Devil," said the star. "But as soon as the doctor said I could start training again, I was on the treadmill the very next day."
The celebrity mom further explained, "Five days a week, Gunnar puts me through an hour-long plyometric cardio circuit that always includes boxing elements. What's amazing is that you're getting three-in-one training; it's hitting your muscles, it's a cardiovascular workout, and it's a mental exercise. You have to be super focused when you're boxing. After I've done a few rounds, I feel as if I can conquer the world."
Ciara certainly has been doing great things. "What I've learned is that the difference between being good and being great is the effort you put in," shared the star. "You can't just wake up in the morning and be a winner; you have to work for it."
Future is Ciara's only child with Nayvadius Cash, a.k.a. Future. He celebrated his first birthday in May.
Photo: Felipe Romales / Splash News