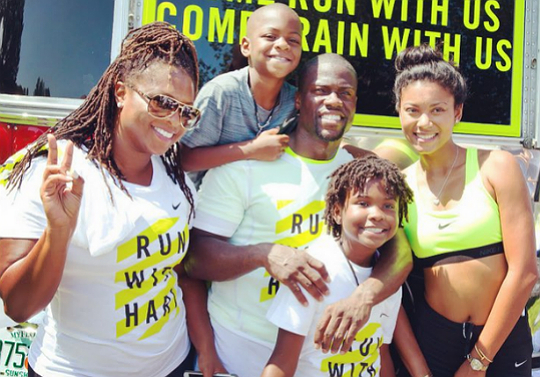 Kevin Hart and his kids promoted health and wellness in Brooklyn, New York this past weekend. The comedian hosted a 5K marathon alongside Heaven, Hendrix, Torrei and fiancee Eniko Parrish.
"This is one of the best pictures that I have ever posted," shared Kevin along with a picture of him and the family. "My #1 responsibility is 2 raise 2 beautiful kids….As a MAN its my job to make sure that the two most important women in my life have a relationship….Its important that my kids see their mother & father HAPPY because we both deserve to be."
Kevin has run a number of marathons this year, including a race in Boston that was also a 5K. The comedian invited all of his Twitter fans in the New York area to join him and the family in running this past weekend by telling them that his goal was to "make this the BIGGEST run yet."
Kevin and ex-wife Torrei Hart have two kids together. See more pictures of Heaven and Hendrix below!
https://instagram.com/p/5CaYyFiYhV/
Photos Instagram