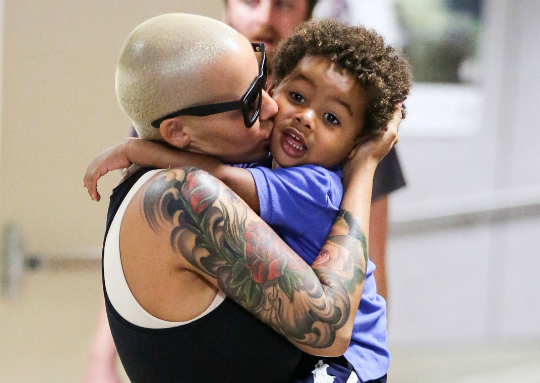 Amber Rose ad son Sebastian Thomaz share a kiss at LAX airport. The proud mom kisses her son on the cheek while he sets his sights on other things around him.
Sebastian is quite the advanced tot, with a vocabulary repertoire that is quite impressive. The little one was recently filmed while using the word "translucent" in a sentence. "Hey pumpkin, what color are the jellyfish at the aquarium," asked Amber in the footage. Sebastian responded with, "They're ghost jellies" before telling social media fans that the sea creatures were "translucent." How cute!
Sebastian's smarts can be attributed to both mom and dad who strive to teach him new things everyday. "I teach Sebastian a new word every week that would be seemingly difficult for a 2 year old but he kills it every time," shared Amber with Instagram fans.
The model decided to start sharing pictures and video footage of her son on Instagram after months of refraining from doing so. "I've decided to have my Pumpkin Pie back on his mommy's instagram," shared Amber along with several pictures of her son with his grandmother. "I thought keeping his pics and videos private would allow him to have a more normal life but apparently that didn't really work. There are photos posted of him everywhere besides my account," added Rose.
Sebastian is Amber Rose's only son with estranged husband Wiz Khalifa. See the little one in all of his brilliance below!
https://instagram.com/p/4uTkLHkqy4/?taken-by=amberrose
Photos: Splashnews