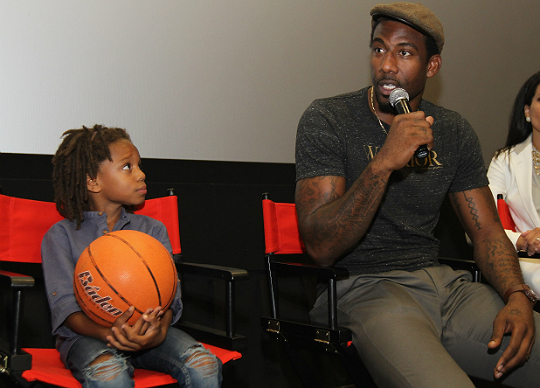 Amar'e Stoudemire is getting his taste of Reality TV. The basketball player along with other NBA stars will be featured in a new series called 'Little Ballers,' which trails four 11-year-olds on their journey to becoming successful NBA players. Although they are only tweens, the boys will experience heartache and drama as they strive to make their dreams come true.
Stoudemire knows all about heartache and working from the bottom up as he previously shared his experience of joining the New York 'Knicks' when the team wasn't doing so well. "The first thing that went through my mind was the challenge of turning this team around and trying to make a great team out here in New York, so that was the first challenge, first thing that came to my mind and I was able to accomplish that," said the basketball star to Shaina411 of Examiner.com.
Amar'e certainly looked successful and stylish at the 'Little Ballers' press conference, which he attended with his son a few days ago. The New York 'Knicks' player sported a brown hat with gray pants while his son rocked denim. Amar'e's 'mini me' held a basketball with both hands while watching his dad discuss the show.
Amar'e has four children with wife, Alexis Stoudemire.
Photos: Jerritt Clark/Instagram