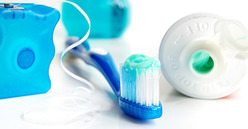 Do people step back when talking to you? Do they turn their heads when you go close to speak to them? Do they constantly offer you gum or tic tacs? When people are around you, do they take deep breaths?  If you answered yes to any of the questions above, then it may be that you have an odoriferous mouth.
It baffles me how many people don't recognize when they have offensive breath. How can anyone not recognize when he or she has a "poop" stench emanating from his or her mouth? I have been on the receiving end of many a bad breaths and what surprises me is that many people don't know how to care for their teeth. It's not ok to brush your teeth for 2 minutes and then call it a day.  It is certainly not ok to chew gum and have that be that. Ever heard of floss? Floss is by far the underdog; most people don't even know how to floss. Do me a favor? Next time, floss after brushing your teeth. After flossing, take the string of dirty floss and hold it to your nose? Do you smell that? Yes, awful! Now you know why people are turning their heads.
In certain cases, bad breath can be a sign of a serious medical condition like diabetes, bronchitis, or a liver kidney ailment. Here are a few things you should know:
Certain foods cause bad breath:garlic, onions, to name a few.
Schedule regular dental visits for a professional cleaning and checkup at least every six months
Brush twice a day with fluoride toothpaste and floss and make sure to brush your tongue! Floss i tell you! Floss!
Mouthwashes help but sometimes just mask smells. But if you brush and floss, then you should be well on your to having good breath.
In a nutshell:Brush, floss, and rinse
 
Click Here for more on how to care for your mouth.
Picture Source