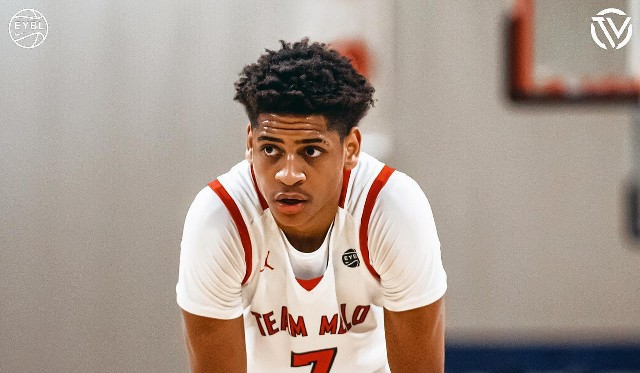 Kiyan Anthony is making his mark at Nike's EYBL Session II. La La and Carmelo Anthony's son recently shared his experience at the tournament with Prospective Insight.
"I came here to EYBL and I played 15s, last year," Kiyan said of his time at EYBL last year. "You know, we did really well," he continued. "We came just short of making it to Peach Jam and so this year I feel like we got a chip on our shoulder. So we're trying to make it to Peach Jam and make it far."
Kiyan Anthony is following in his father's footsteps when it comes to basketball. The teen received an offer from his dad's alma mater, Syracuse University, several months back.
"[Some of the best advice I have received from my father is] him just telling me to keep going, you know, be aggressive, get to my spots," Kiyan told Prospective Insight. "Don't force it," the teen added in reference to the words of wisdom his dad provides.
"Like, let the game come to you," Kiyan said. "He always tells me to use my pump fake and stuff like that. Just get to my spots and shoot my open shots and just be ready."
La La Anthony has also been instrumental in motivating her son. "She tells me it's a marathon, not a race," the teen shared. "Everything is not gonna happen in one day," Kiyan continued. "So I just try to keep going. I try to get in the gym every day and just work on my craft and get better."
Hard work and dedication have paid off for Kiyan. The teen has gotten several college offers in addition to Syracuse. "I just got offers from Providence and Seton Hall," the young athlete shared with Prospective Insight.
"I will start taking my visits in September of this year. Still keeping all my options open. I will visit schools I feel most needed and most welcomed."
Photo: Kiyan Anthony/Instagram