Bambi is circling back with an apology after her recents posts sparked strong backlash from Scrappy's oldest daughter, Emani Richardson, and Erica Dixon. The Love and Hip Hop (LHH) star took to Instagram with her words of remorse.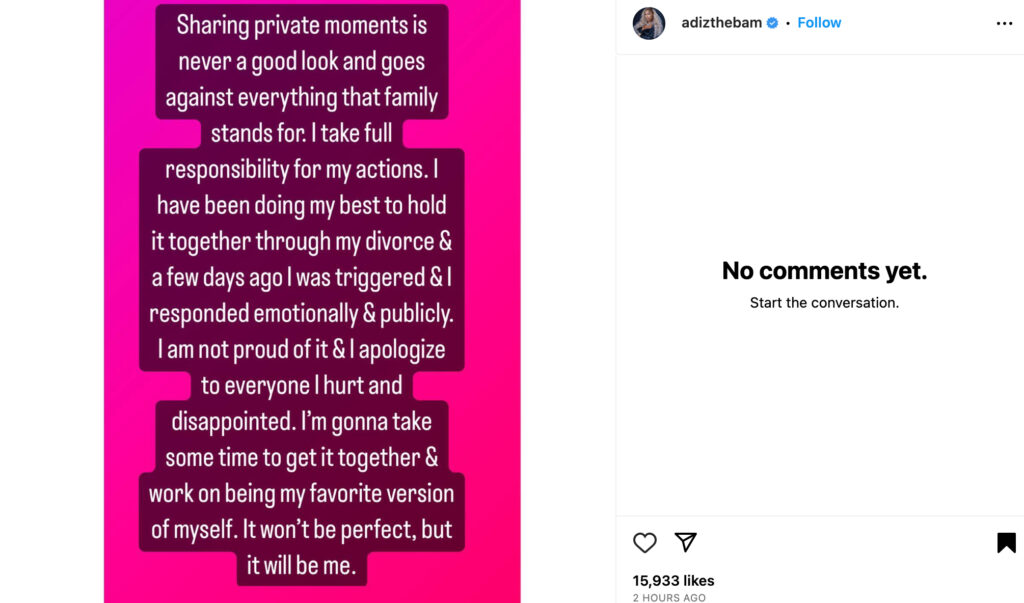 "Sharing private moments is never a good look and goes against everything that family stands for," Bambi revealed. "I take full responsibility for my actions," the LHH star said.
"I have been doing my best to hold it together through my divorce," Bambi told her supporters and critics. "A few days ago, I was triggered and responded emotionally and publicly," she added. "I am not proud of it and I apologize to everyone I hurt and disappointed," Bambi said.
"I'm gonna (sic) take some time to get it together and work on being my favorite version of myself. It won't be perfect, but it will be me."
Bambi revealing her pending divorce from Scrappy came as a surprise to some. Love and Hip Hop: Atlanta (LHHATL) viewers speculated the couple was having problems during the previous season of the reality series. Bambi and Scrappy appeared to be headed in the direction of restoration for a time. Rumors of Scrappy leaving Bambi for Erica Dixon, however, began to spread last December.
Both Scrappy and Bambi have been quiet about their relationship these past few months. The silence, however, was interrupted a few days ago when Bambi engaged in a verbal war that included Erica Dixon and Emani Richardson.
"The reason why I never liked your a*s is because since your child was eight years old she confided in me about you bullying her and two piecing her a*s," Bambi wrote to Erica in an Instagram Story post. "I let people think otherwise and never spoke up because Scrapp was handling it with the court and she was underage," the Love and Hip Hop (LHH) star continued. "But b*tch f*ck you! It's up," Bambi went on to tell Erica.
Dixon responded with a video message in which she revealed Bambi's attempts to have her children taken away by Child Protective Services (CPS). "I'm going Live because it's crazy to me how you're still on these abuse allegations, Bambi," Erica said. "You and Scrappy tried to have my kids taken from me," the LHH star revealed. "Like I said [before], y'all are miserable people. You still are miserable."
Emani also chimed in with a video message of her own. "Me and my siblings are very well taken care of, and my mama goes 100 percent for all of us," the young adult said. "I don't have to stay in a child's place because I'm 18 [years old]," Emani added.
"You're not going to keep speaking on my part or my mama's part. You cannot love me as a child if you go around making diss tracks about my father [and] talking about my mama. You don't have no respect, you don't love me, none of that. So cut it out. You don't love nothing. You don't love nothing. Because if you loved me, you wouldn't be online doing all [of] this. This ain't love, sweetie."
Emani is Erica Dixon's only child with Lil Scrappy. Bambi and Scrappy have three kids – Breland, Xylo, and Cali – together.
Photo: Scrappy/Instagram