Blue Ivy Carter is in her mom's new movie! The 8-year-old recently appeared in the trailer for Beyonce's Black Is King.
Blue's appearance in the trailer was short yet sweet. The youngster smiled while wearing an outfit fit for a princess.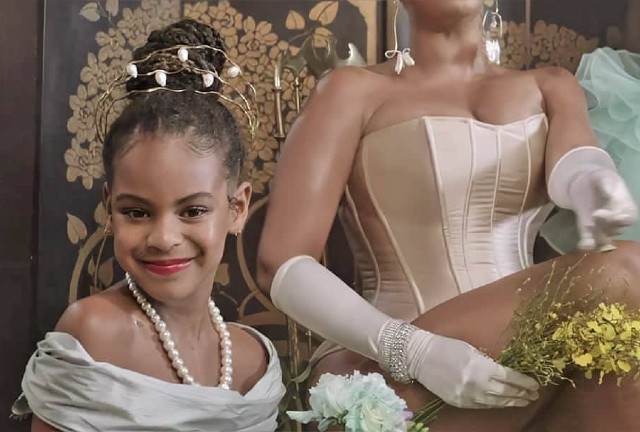 It should be of little surprise that Blue Ivy Carter shows off her crown in her mom's latest film. Black Is King is, after all, based of The Lion King, which is ultimately the story of a king discovering his royalty and reclaiming what rightfully belongs to him. "The film [Black Is King] re-imagines the lessons from the 2019 blockbuster [The Lion King] for today's young kings and queens in search of their own crowns," Disney said in a statement.
Beyonce also gave insight into her new film in a recent recording given to Good Morning America. "I worked with a diverse group of very gifted directors, and actors, and creators from all over the world to re-imagine the story of The Lion King," the entertainment mogul said. "The narrative unfolds through music videos, fashion, dance, beautiful natural settings, and raw new talent," Beyonce revealed.
"But it all started in my backyard," she continued. "So from my house to Johannesburg, to Ghana, to London, to Belgium, to the Grand Canyon, it was truly a journey to bring this film to life. My hope for this film is that it shifts the global perception of the word Black — which has always meant inspiration, and love, and strength and beauty to me. Black Is King means Black is regal and rich in history, in purpose, and in lineage."
You can see Black Is King on Disney+ on July 31, 2020, starting at 3AM. Those with the Hulu and Disney+ streaming bundle can also watch the film. Stay tuned for more celebrity family news!
Photo: Black Is King/YouTube