Christina Milian is well on her way to welcoming her second child. The celebrity mom recently showed off her growing bump in new maternity photos.
Blue was the color that Milian was rocking in her shots. It may be safe to assume that the pregnant star was wearing apparel in recognition of her expectancy of a son. "Royal love for you, my future Prince," Milian captioned underneath an Instagram photo series that showed her posing while rocking a richly blue bathing suit.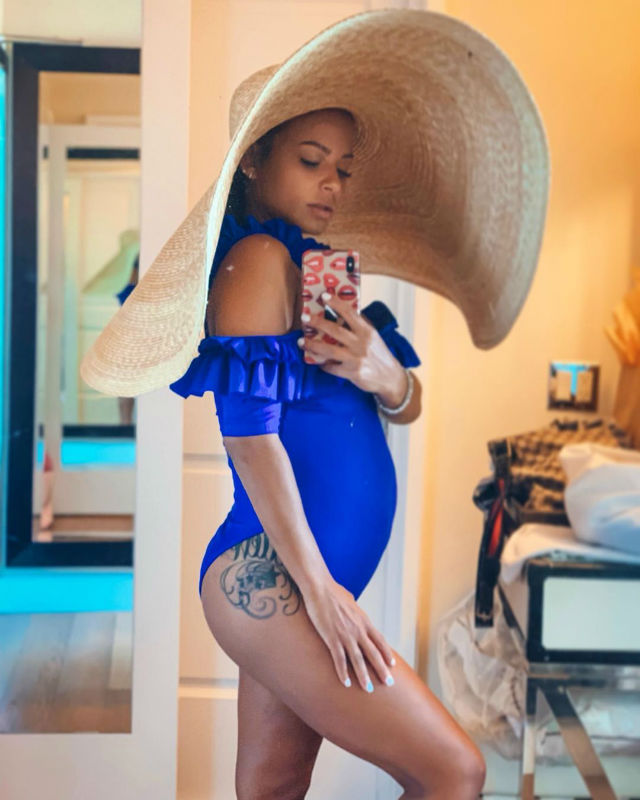 "Everything about this picture is fire," one Instagram fan shared. Another social media follower wrote, "Since everyone has been asking about her baby bump… She just had to let the picture speak for itself." We are here for it!
Christina Milian recently gave the press an update on her pregnancy. "It's going great. It's exciting. I'm so excited," the celebrity mom shared. "I'm starting to feel little kicks and flutters now," Milian added. "I had no morning sickness, everything's been fine," Christina went on to tell the press. "Even my belly, I carry it different than a girl. It's kind of weird to experience that. Having a boy is pretty awesome."
Christina Milian and her boyfriend, Matt Pokora, are expecting their first child to arrive next year. The couple's son will join Christina's daughter, Violet Nash, at home. Stay tuned for more celebrity pregnancy news!
Photo: Christina Milian/Instagram