Lauren London and Lil Wayne's son, Kameron Carter, celebrates his 10th birthday today. Lauren took to Instagram earlier today to share a special message to her first-born kid:
My first born turns 10
9-9-09.
09-09-19 today
Kam opened my heart 10 years ago
A gift from the most high
A consistent act of service
A gift
Kameron is full of soul and a constant reminder of Gods unconditional Love.
My Sonshine!
Happiest Birthday my Brave boy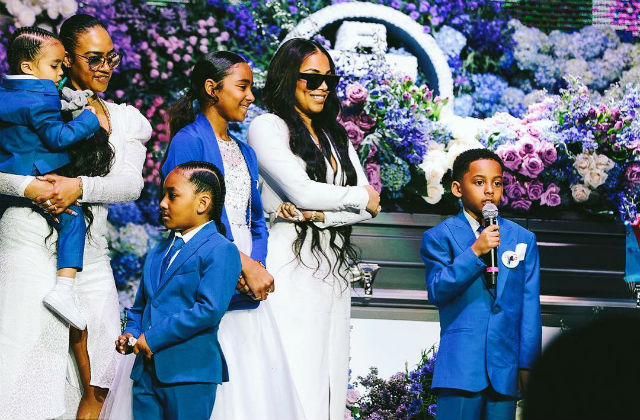 Kameron's bravery was exhibited when he spoke in front of thousands at Nipsey Hussle's memorial service in April. The nine-year-old shared what the late rapper revealed to him in a dream after his untimely passing. "On the night of April 2, I had a dream that I was in paradise, and I was playing in the ocean water when Ermias appeared," Kameron said in his speech.
"He said, 'What up, Killa?' because that was my nickname," Kam continued. "I turned around and I held his hand and I gave him a hug … It was still cool, I guess … Ermias told me what it was like in paradise."
Ermias a.k.a Nipsey Hussle was no doubt looking down when his son, Kross Ermias Asghedom, turned three years old on August 31st. Lauren was sure to  wish her second-born a 'Happy Birthday'.
"Today is my warrior baby's 3rd Birthday. Kross Ermias Asghedom. You are the Light that shines in darkness," London shared on Instagram. "You are everything we prayed for and more. Continue to shine Sun