Do not expect Monique Samuels of Real Housewives of Potomac to suppress her words. The BravoTV star tells BCK Online exclusively that she wholeheartedly believes in addressing problems by going directly to the source.
"One thing about me is that I was raised with a mouth. In my family, we can check you real quick," Samuels reveals. "I call us bootleg comedians because we joke all the time," the RHOP star adds. "Everything's hearty. Everything's fun. We're always laughing. We always have clapbacks. So I literally was probably raised to do Reality TV and didn't even realize it."
Samuels was, in other words, reared for the conflict that occurs between her and co-star Candiace Dillard this season. "Someone will take one little small word and twist it, and then you have this big mess that you have to go back and clean up," Samuels shares. The RHOP star is referencing a comment that she made regarding Amistad that Candiace took out of context.
"Candiace is the one I spoke to and who repeated, incorrectly, the conversation we had," Monique says. "So, rather than me go around the Mulberry Bush, [I said] let me go directly to Candiace and find out what's going on. So it's kind of how you have to do things."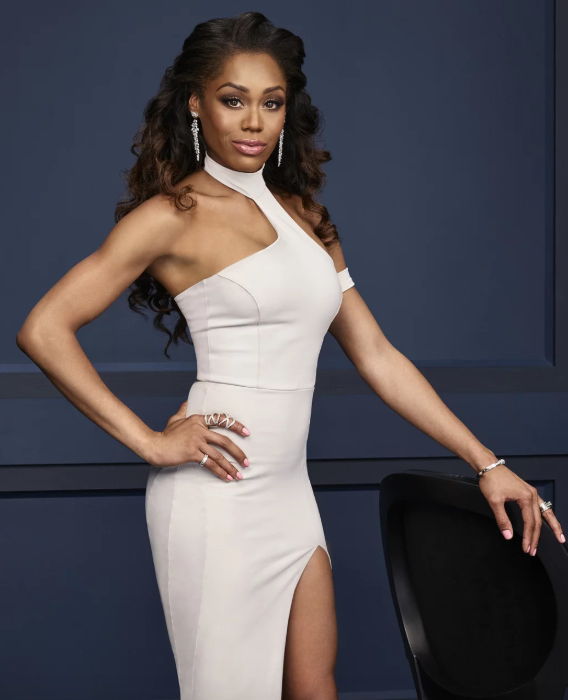 Monique Samuels and her husband, Chris Samuels, experienced quite the scare during the expectancy of their third child. Of course, all things worked out favorably as the couple welcomed their son, Chase Omari Samuels, last November. Still, the scare caused Monique and Christ to reconsider a few things.
"That situation taught my husband and I to be a little bit more prepared," Monique shares with us. "Being that we already have two kids, and had a third on the way, it was a little harder to figure out a plan that we would need to put in place for when the time did come and it was time to give birth to the third baby. We didn't realize how unprepared we were until that whole situation happened."
Monique describes the situation as "difficult" but nevertheless reveals the positive results that came out of the crisis. "It kind of taught us some things about just being prepared for when an emergency happens," Monique says. "Even to the point where we didn't think that it was time for our kids to know our full addresses [and] our phone numbers by heart. So it allowed us to teach them [that] when there's an emergency, you dial 911. Both my kids understand that now. So it was a negative situation that turned out to have a positive end."
You can catch more of Monique Samuels' family on Real Housewives of Potomac. Tune in every week on BravoTV's network!
Photo: Monique Samuels