Shaquille O'Neal a.k.a Shaq and his kids Shareef O'Neal and Shaqir O'Neal were all smiles at the 2019 NBA Awards at Barker Hangar on June 24, 2019 in Santa Monica, California. For the event, Shaq wore a blue suit while his sons wore Balenciaga Crewneck Sweaters and black jeans.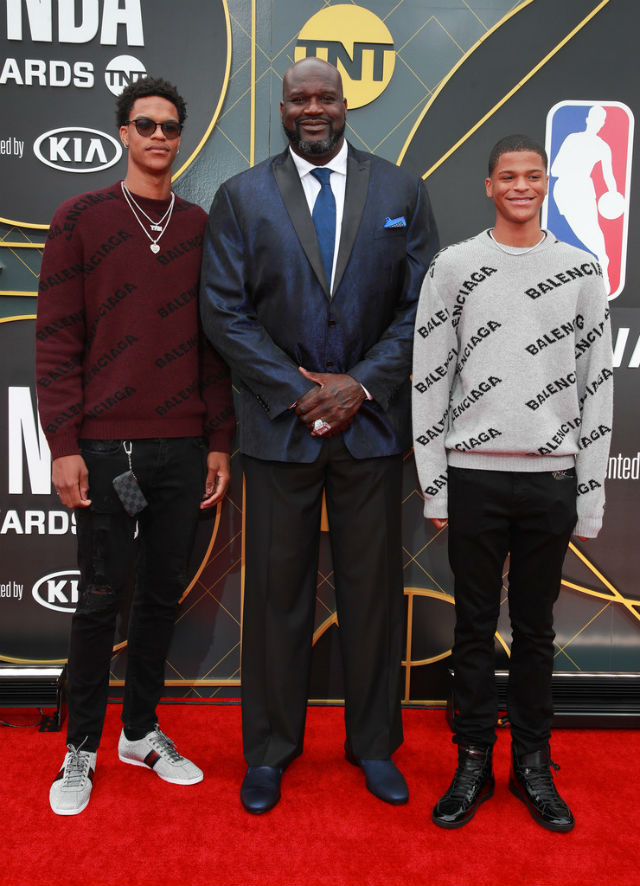 Shareef and Shaqir O'Neal are following in their father's footsteps on the basketball court. Recently, the duo were heckled by fans for missing free throws. However, their Hall of Fame dad shared a hilarious clap-back in defense of his boys. Shaq reminded the hecklers that, "your daddy was the best to ever do it."
Shaq even gets defensive in his son's IG comments 😂

(via shareefoneal | IG) pic.twitter.com/eEOeQEqKjM

— Yahoo Sports NBA (@YahooSportsNBA) June 19, 2019
UCLA freshman Shareef O'Neal is blessed to be back on the court. Having undergone heart surgery last year, the young O'Neal is looking healthier than ever playing in the Drew League this summer.
The Drew League is made up of a myriad of pro, college, and "off-the-street" players. Named after Los Angeles' Charles Drew Junior High School, the summer league has become a place where players can create some exciting highlight reels. We look forward to seeing more and more of these two on the court. They definitely have a bright future ahead of them. With the last name O'Neal, how could they not!
Photos: Getty Images