The premiere of Disney's new family sitcom, Just Roll With It, is right around the corner and fans are waiting with bated breath for the show to debut.
Just Roll With It will combine the traditionally scripted family sitcom with improv comedy, all while allowing the audience to participate in the hilarious action that will ensue. The live-studio audience will get the opportunity to vote on the direction of key scenes throughout the show. And of course, the actors will be unaware of their impending fates.
The unpredictable new show follows the ups and downs of the blended Bennett-Blatt family-pre-teen step-siblings Blair and Owen and their fun-loving parents Rachel and Byron. BCKOnline had the opportunity to sit down with Ramon Reed and Kaylin Hayman, who play Byron and Blair, for an exclusive interview about what audiences can expect and more. Check out their interview below and don't forget to mark your calendars and make sure to tune in for what is sure to be comedy gold, on Wednesday, June 19th 8:00 p.m. EDT/PDT on Disney Channel and DisneyNOW.  (Note: Some responses were edited for clarity.) 
BCK: What would you say is different from working on Just Roll With It
It as opposed to your previous projects?
Ramon Reed: What's different from working on Just Roll With It from my previous project, Disney's The Lion King, is it's still in front of a live studio audience, but the amount of people and the amount of moving pieces that The Lion King had in comparison to Just Roll With It makes Just Roll With It a little less risky with the things that could happen. I feel that it is way more intimate than The Lion King.
Kaylin Hayman: For me, Just Roll With It is different than my previous projects because we didn't get messy a lot and we didn't have to do improv. I had really no experience in improv before I started Just Roll With It.  For me, Just Roll With It is different than my previous projects because we didn't get messy a lot and we didn't have to do improv. I had really no experience in improv before I started Just Roll With It. But Tobi and Suzi did classes with us and I go a lot better at it. I also have never done anything else Disney. This is my first thing.
BCKOnline: Can both of you guys tell us a little bit about your characters on the show?
Ramon: Owen is an accomplished student who strives on organization, doing well in school, always trying to be the best Owen he can be, and trying not to make mistakes, which is the complete opposite from his stepsister Blair. But Owen is very uptight and I feel that there is never a moment when Owen is completely relaxed.
Kaylin : Blair is very rebellious. She isn't too great at school but she doesn't want to fail school. She is very adventurous. She likes scheming things and she usually drags Owen into it. She usually ends up getting them both in trouble. Owen and Blair are pretty much opposites but at the end of the day, they are always there for each other because they are step-siblings. And they kind of even each other out.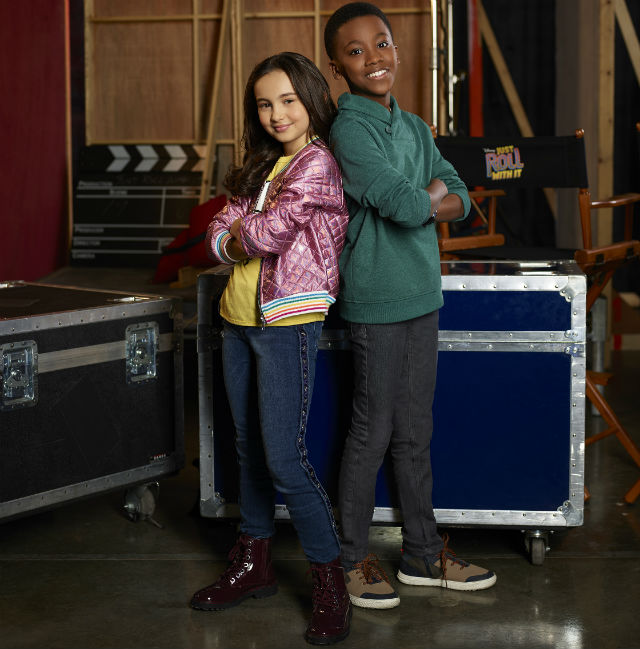 BCK: Speaking about your characters, how different or similar are you from your characters?
Ramon: I don't over think things as much as Owen does. I am way more chill than he is and not always uptight but I still like school. Some subjects are a little "iffy" for me, but he likes all subjects. I feel like that contrast of me not being all the way like Owen, it's  a meet-in-the-middle thing that makes me and Owen kind of connect in a way.
Kaylin: I am not as rebellious as Blair. I am not a schemer and I really like school and I get good grades unlike Blair. I am adventurous. I would say that I am 50% Blair and 50% me.
BCK: What other projects have you all worked on in the past?
Ramon: I did some community theater with Porch Productions in Charlotte, NC, which is where I am from.
Kaylin: When I was five or six, I was in High School Musical play. I also did community theater with Performing Cedar for Young Artists. I also worked on One Day at a Time and The Mick. 
BCK: How is it doing improv?
Ramon: We get a regular script but there is this whole other script that we never see with all of the secret bizarre things in there. We go on with the live studio audience and all of a sudden, the live audience gets to vote on the scenarios that can happen to us, that's when the improv kicks in. Improv is a challenging thing. It's a learning game even when you are really good at it. I feel like you still learn stuff everyday, especially with this show. We learn stuff from each other everyday that we are working together.