Happy Birthday, Jru! Draya Michele and Orlando Scandrick celebrated their son's first birthday this past weekend with a pirate-themed bash.
Jru was the recipient of many hugs and kisses. One candid showed the little one taking in the beauty of his cake while being held by mom. Orlando kissed his son before Jru delved into his tiered cake. "Jru Day," Scandrick wrote online.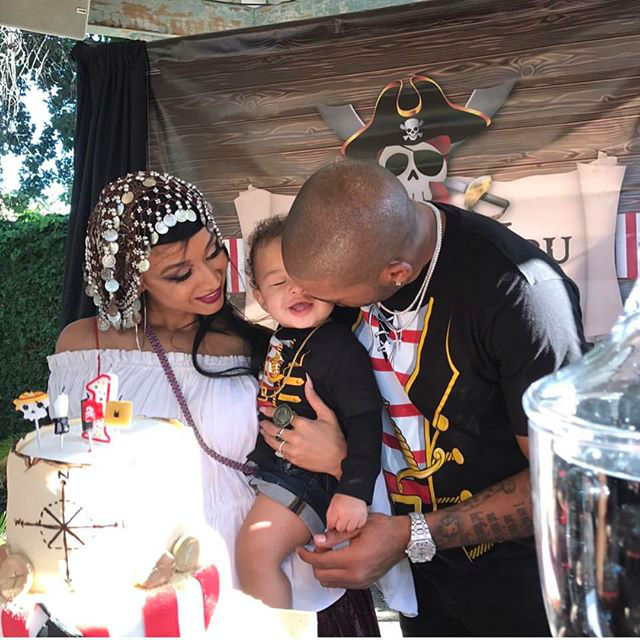 Draya Michele also took to Instagram to celebrate her youngest son's special day. "My little angel is a whole year old today," she told fans the day before his big party. "#happybirthdayjru we are gonna turn up so hard tomorrow," Draya shared.
https://www.instagram.com/p/BSo2qtPFogg/?hl=en
Michele welcomed her son last April. The celebrity mom shared news of her birthing experience a week later with Twitter fans. "Thank you EVERYONE for the blessings and well wishes," Draya wrote. "I had him last week and I just wanted to take that time to enjoy him as my own little special gift."
https://www.instagram.com/p/BSrlbnelcwT/
Although she was open to sharing news of Jru's arrival, Draya waited a few months before sharing her son's photo online. "He's just a bit too young and still changing," the star mom told one fan who questioned her decision to refrain from going public with candids of her then-newborn. The wait certainly proved well worth it as Jru's debuting photo was as cute as ever.
https://www.instagram.com/p/BStwlb3FSSY/?taken-by=oscandrick32
Jru is Draya Michele and Orlando Scandrick's only child together. Michele also has a son named Kniko from a previous relationship.