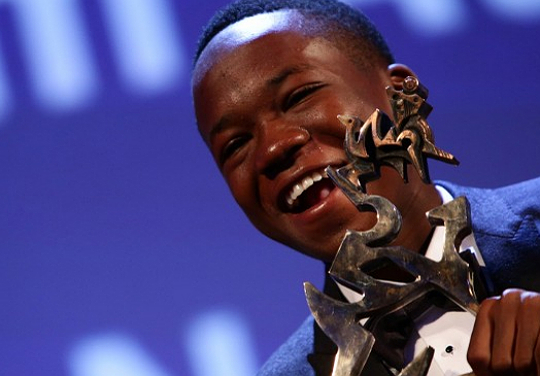 You may not be familiar with Abraham Attah right now, but you will know who he is in coming years. The 14-year-old was one of the youngest recipients of the Marcello Mastroianni's Best Young Actor Award at the 2015 Venice Film Festival that took place this past Saturday. Abraham's work in the upcoming Netflix original Beasts of No Nation greatly impressed judges and fans at the event.
"[He had] zero film experience, little education," said film director Cary Fukunaga. However, "he became a somewhat professional actor, which was astounding to watch." Cary was amazed at Abraham's ability to hone in on his emotions, especially after randomly discovering him with his friends in Ghana.
"We were playing football on our school field when a white man came and said, 'We need some boys for a movie,'" said Abraham during a press conference. "We went to a TV station in Ghana for an audition and…I was cast."
Beasts of No Nation is a dramatic war film that centers around a child soldier who fights for his country. The film is expected to make its official debut on October 16, 2015. For now, watch Abraham Attah and Cary Fukunaga take on the press!