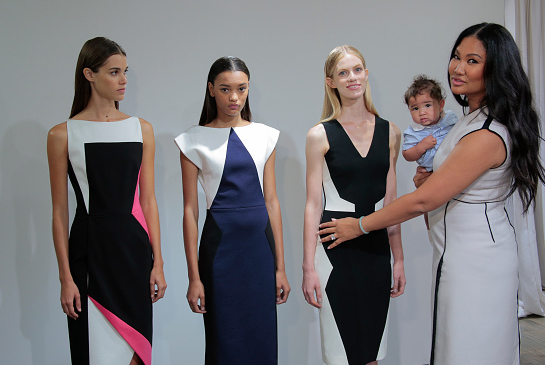 Kimora Lee Simmons Leisser had the support of her son Wolfe and her husband Tim Leissner as she unveiled her 2016 Spring collection during New York Fashion Week on September 10, 2015 in New York City.
Tim cradled their son as Kimora informed attendees at her New York presentation of the inspiration behind her latest collection. "I'm married, I have a new baby. I have a holding company and a collection. But no matter how I feel or look on any given day, I want to feel smart and empowered," said the businesswoman.
Kimora further explained, "I design for a modern woman who's a mover and a shaker. Right now that's me — I'm finishing renovating a new apartment near Madison Avenue, and one minute I'm here doing business, and the other part of the day, I'm schlepping around ABC Carpet & Home with my hair on top of my head. People stop me and say, 'Kimora, you look so real.' And I'm like, what do you mean by real? I know what they mean and it's not good!"
In trying to change such perspective, Kimora is placing more of her attention on fashion. "Nowadays, if you see me on the big screen, it's about fashion. It's not about what crazy things my kids are doing anymore," said the star at her unveiling.
Wolfe is Kimora's only child with Tim Leissner. The fashion mogul has four kids in all.
Photos: Getty Images