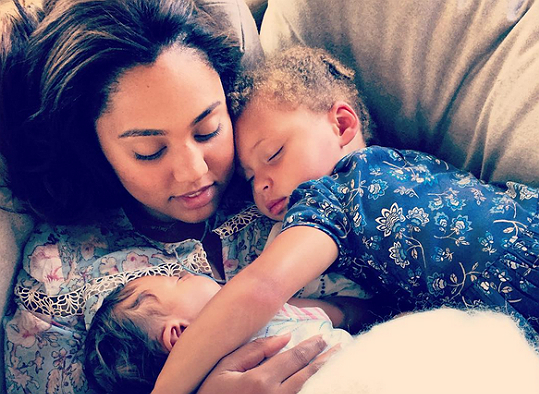 With two daughters and a husband, Stephen Curry, who loves her to no end, Ayesha Curry is feeling fortunate. The celebrity mom recently took to Instagram to express gratitude for her family.
"Feeling so blessed," shared Mrs. Curry along with a picture of daughters Riley and Ryan. The celebrity also posted a picture of little Ryan by herself. "My sweet baby girl will officially be 2 months old in a couple of hours," captioned Ayesha underneath. "Her sweet, gentle spirit is just what we needed in our family. I feel so blessed to be her mama!!! Love my girls"
The Currys welcomed the newest member of the family on July 10, 2015. Although she was already a parent, Ayesha told fans that she was a bit nervous about mothering Ryan. "I began to worry more about becoming a second-time mom," shared Mrs. Curry with The Bump a few weeks back. "I wasn't sure I was cut out for the job. I had it all together with Riley and my love overflowed for her, but I had this underlying fear of having the ability to do it again."
All anxiety went away the moment that Ryan was born. "God created a special place in my heart that is just for her, as he did for Riley and as he did when I fell in love with my husband."
See more pictures of the Currys below!