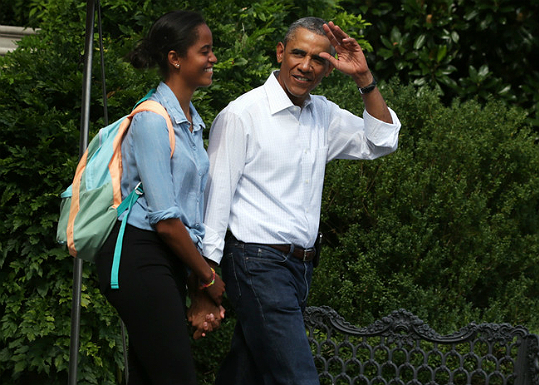 The only thing that scares the president of the United States more than his daughters dating is the thought of them leaving the nest. The commander in chief recently told a group of Michigan supporters that he is a bit anxious about Malia going off to college next year.
"Just yesterday, Malia started her first day of senior year," said the president. "You know, I was sitting in her room because I was going to see her off her first day of school. She puts her head on my shoulder and she says, 'Daddy, you know, you realize this is probably going to be the last time that you ever send me off for my first day of school.'"
The head of government further explained, "I had to look away. I didn't want to just be such a crybaby. It makes no sense. Michelle and I are way too young to have daughters who are both almost in college now. So as a parent, I was a little freaked out."
President Barack and First Lady Michelle Obama have two daughters. Malia is the oldest child while Sasha is the couple's youngest. The girls were ten and seven years old when their father took office in 2008. It is unclear whether Malia will attend college on the East coast like her mother and father, or come out to the West for schooling next year.