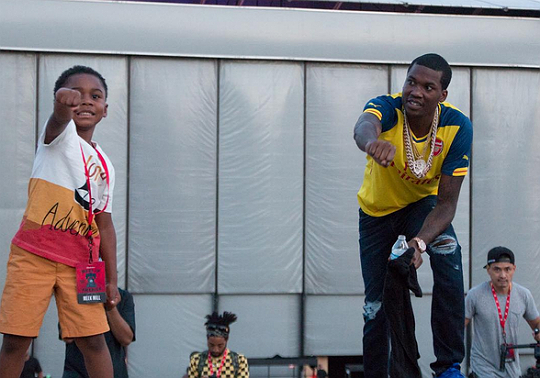 Riley Curry, Torrey Smith Jr., and Shai Moss are just a few celeb kids who have showed off their 'Nae, Nae' moves. Now, Rihmeek Williams joins the crowd of dancers.
The son of rapper Meek Mill joined his dad onstage during the 'Made In America' festival in Philadelphia a few days ago, and he melted the hearts of thousands as he showed off his moves to Silento's 'Watch Me (Whip/Nae Nae).' Rihmeek put his own spin on the dance while grooving beside his dad. "I'm to G to b whipping….. But I gotta do it for papi," captioned Meek underneath a photo of him dancing alongside his son.
Although the rapper often travels for work, Meek makes the most of his time spent at home. "One of my favorite things to do is get on my four wheeler with my little man (Rihmeek) in tow," said the recording artist during a recent interview. "Picture us riding around my neighborhood waving at all my neighbors. My son is fearless on his bike."
Rihmeek is Meek Mill's oldest son. The rapper also has a son named Murad.
https://instagram.com/p/7RIbDNo-3M/