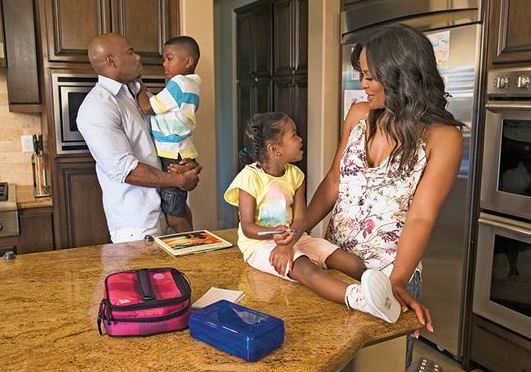 Nannies will not be raising Laila Ali and Curtis Conway's kids. Laila tells USA Today that she and her husband do everything within their power to ensure that they are involved parents.
"Family is first," says Ali. "People who don't know me would probably think I'm a stay-at-home mom because of the interactions I have with my family. I cook dinner every night, and when I'm out of town I cook and freeze dinners before I leave. It runs me a little ragged, but it's all about priorities."
The former wrestler further explains, "If we need help, we get it, but we try to do everything ourselves. It's very important to me to raise my own children and be a part of every step of their lives."
Every step includes preparing healthy meals that little Curtis and Sydney will enjoy. "My kids are very picky, so lunch is always a headache," shares Laila. "They don't like sandwiches, so we have to pack hot food in a thermos. I'll cut up carrots and fruits. Some days it will be applesauce and cheese."
Laila Ali has two children with Curtis Conway and three bonus kids by marriage.