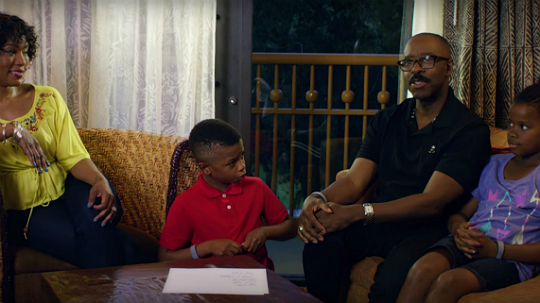 Vacations are always fun at Disney World. Angela Bassett, Courtney Vance and the kids tell fans why they love the theme park so much.
"I've been coming to Disney World since I was about fourteen because I grew up in Florida," says Angela. "So I'm so happy to be able to share that with my family. There's something for everyone."
Although they didn't grow up in the Sunshine State like mom, Bronwyn and Slater have enjoyed the adventure that is Disney World. "My favorite thing at Disney World is getting on all the rides and being scared," shares Slater. "I love Tea Cups," adds Bronwyn.
Outside of having immeasurable fun with the kids, Courtney and Angela like to spend a bit of grown up time at the restaurants. "When we have a bit of time on our own here at Disney World, outside of the children, we like to go to the various restaurants," says Courtney. The actor adds, "I love coming here."
Find out what else the celebrity family enjoys about the Magic Kingdom, and make reservations to discover the world of Disney for yourself!