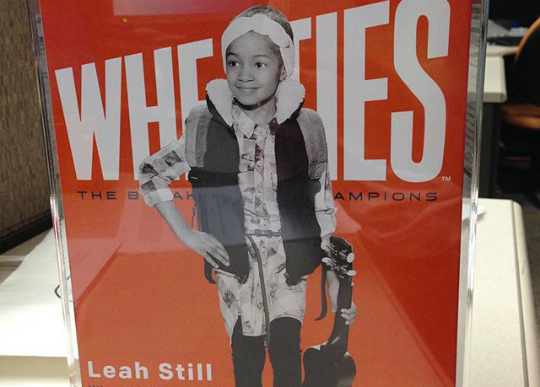 Go Leah! The 5-year-old daughter of NFL player Devon Still is now the feature face on Wheaties cereal boxes throughout the nation. Devon shared the amazing news with Instagram fans earlier this week.
"In the words straight out of Leah's mouth, 'This is so awesome,'" captioned Still underneath a picture of the box. Leah is featured on the Wheaties box while holding an instrument in her hand. The little one's name is also showcased with the caption "Wheaties Champion" underneath.
Leah has become an inspiration to many since being diagnosed with cancer last year. The youngster remained in good spirits throughout her treatment, and has been enjoying life cancer-free for the past few months.
Devon accepted ESPY's Jimmy V Perseverance Award a few weeks ago on behalf of his daughter. "I remember the first week in the hospital, I would sneak out [of] the room and I would go down to the chapel and I would just cry," said the star during his acceptance speech. "I would just ask God why did he give my daughter this fight, and I would beg him to give me the fight with death rather than my daughter."
He went on to tell fans, "We had two options. We could have lost faith and just let this battle with cancer get the best of us. Or I could give my daughter's battle with cancer a purpose, and use my platform to try to raise as much awareness as possible."
Devon and Leah chose the latter option of spreading awareness and, in so doing, have touched the lives of many. Watch Leah send her father off to training camp!
https://instagram.com/p/5vGqXRp6od/?taken-by=man_of_still75