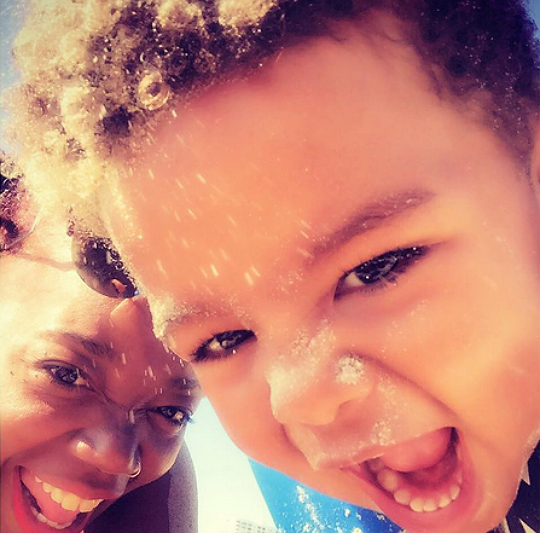 It was a day filled with sunshine and sand as Sebastian and grandma Peachie spent time at the Santa Monica Pier. The tot's grandmother shared pictures from Wednesday's adventures on Instagram.
"Sand + Sunshine + The Ocean," captioned Peachie underneath a picture of her and Sebastian screaming. The two appeared to be making the most of day while enjoying the sand and sea.
Peachie is Sebastian's paternal grandmother. Wiz Khalifa recently doted on his mother and the wisdom that she has given him over the years. It is this sagacity that Wiz hopes to pass on to his son. "All the simple stuff, you know, like using his manners and getting potty-trained," shared the star with PEOPLE in May. "He's a good boy, though. He uses big words and explains everything," exclaimed Wiz.
While the rapper doted on his son, Peachie had a few good words to say about Wiz. "Every time I think I'm going to burst from being proud, he makes me prouder. We crack up, we laugh, we watch movies. We're close!"
Sebastian is Wiz Khalifa's son with ex-wife Amber Rose. See more pictures of the little one with grandma at the beach and on the road with dad below!
Sebastian and grandma Peachie at the beach
https://instagram.com/p/6jYsDzywGu/?taken-by=ogjustpeachie
https://instagram.com/p/6jX7oAywF5/?taken-by=ogjustpeachie
https://instagram.com/p/6kh9o1ywD7/?taken-by=ogjustpeachie
https://instagram.com/p/6ljzzdSwB9/?taken-by=ogjustpeachie
Sebastian with Wiz on the rapper's Zummer Tour
https://instagram.com/p/6S2osRHdmK/?taken-by=mistercap
https://instagram.com/p/6UAFLgHdio/?taken-by=mistercap
https://instagram.com/p/6UAOAhndi1/?taken-by=mistercap