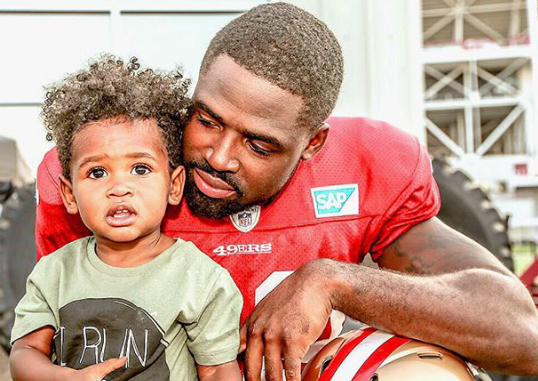 Torrey Smith's son is a 1-year-old with incredible dance moves. The little one was recently recorded while doing 'The Whip' and dancing to another favorite tune.
Young Torrey wore a big smile while grooving. The toddler was playing with one of his toys when Silento's hit 'Watch Me (Whip/Nae Nae)' came on. He immediately jumped up and wore and got ready to dance to the beat. "When you thought you were done turning up but your song comes on," captioned dad underneath the video on Instagram. The NFL star also shared footage of his son dancing to another hit song in which he also exhibited killer moves.
Little Torrey is the NFL star's only child with wife Chanel Williams-Smith. The little one was born on April 4, 2014. See Torrey Jr. dance below!
Little Torrey doing the "Whip" and "Nae Nae"
https://instagram.com/p/5DI9gOk-VO/
More dancing
https://instagram.com/p/6giwTiE-ev/