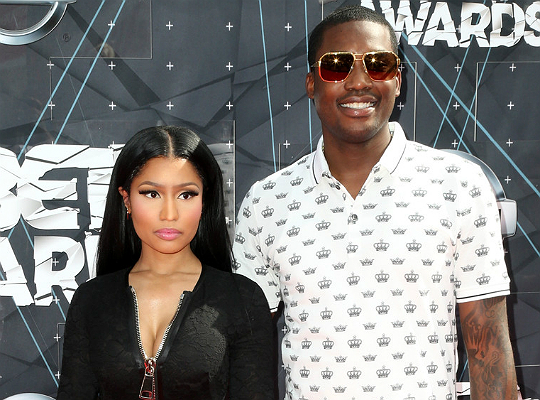 uPDATE: Nicki Minaj is not pregnant. Read more HERE.
Is Nicki Minaj pregnant? The rapper recently referred to her long time boyfriend, Meek Mill, as her baby's father during a concert, which sparked numerous rumors.
Nicki was performing onstage during her "Pinkprint Tour' in Burgettstown, Pennsylvania, on Saturday when she took a pause for the cause of recognizing Meek as the love of her life and "baby father." Meek smiled and held both of his arms high as the crowd cheered for the couple.
While many have said that Nicki's announcement on Saturday was her way of telling the public that she was pregnant, the rapper has told fans that she is not planning to have kids outside of wedlock. "I have definitely put off the wife thing because I don't want people in my business," said Nicki during an interview with Complex magazine last year.
"I'd rather not do anything that's going to be on paper but I definitely will be married before I have my baby," added the star. "I want to make sure I do it in that order. I've always felt like that since I was young; my mother always put that in my head."
Nicki Minaj has been dating Meek Mill for several months. Mill gave Minaj a 15 carat diamond ring worth a half million dollars earlier this year.
Photo: Getty Images