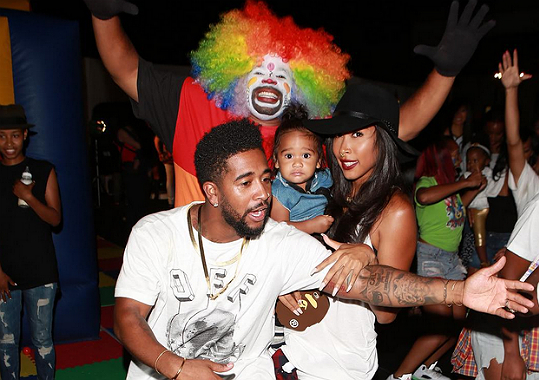 Megaa Grandberry celebrated his first birthday with family, friends and Tommy the Clown this past weekend.
Torrei Hart and Cassie Ventura were two of many celebrities to come out and commemorate Megaa's milestone at Blaq Haus in Hollywood. The stars watched as Tommy the Clown presented a hilarious show, and joined in singing the birthday song to the tot.
Megaa took in all of the sites, which included a stunning 4-tiered cake and sign that featured the youngster's name in gold. Omarion and girlfriend Apryl Jones were the proud parents at the party who smiled from ear to ear as their son received lots of love from guests.
Omarion has gushed about parenthood since discovering that he was going to be a father. "I'm just really excited about the process," said the R&B singer prior to Apryl giving birth. "I'm the type of person that loves putting my energy in things and seeing the outcome. To have someone that's like me, that's gonna be my genetic gene code? The way I think, the way I act, the way I walk, just everything. That's the coolest thing you can ever do in your life, so I'm just excited."
Megaa is Apryl and Omarion's first child together. He was born on August 8, 2014. See more pictures from the party below!
https://instagram.com/p/6J0epAhw-d/