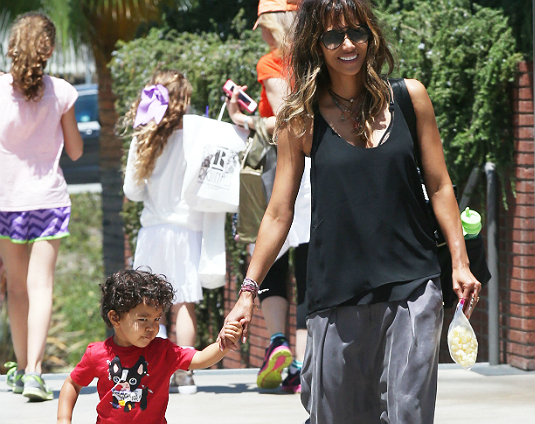 Spotted! Halle Berry and son Maceo were photographed while enjoying a day at the Westfield Mall in Los Angeles, California, on Thursday. The actress and her son were in casual mode as she wore baggy sweatpants and he rocked shorts with a red shirt. Halle was the prepared mom who had snacks for Maceo to enjoy while shopping at various stores in the outlet.
Although she enjoys working on the set of various movies and television shows, Berry never lets the hype that is Hollywood get in the way of family matters. "I love going to work so much," said Halle during a recent interview. However, "when I am with my kids, I'm really with my kids."
Halle also talked about the props that she received from portraying Storm in the hit X-Men series and how she thinks that the beloved character should have her individual stint in the spotlight. "Someone has to call the people at Fox and tell them that's what they should do and they should cast me in it," shared Berry. "Storm has always been one of the most beloved characters of that comic book series so she deserves her story."
Maceo is Halle Berry's son with husband Olivier Martinez. The actress also has a daughter named Nahla from a previous relationship.
Photo: O. Duran/FAMEFLYNET PICTURES