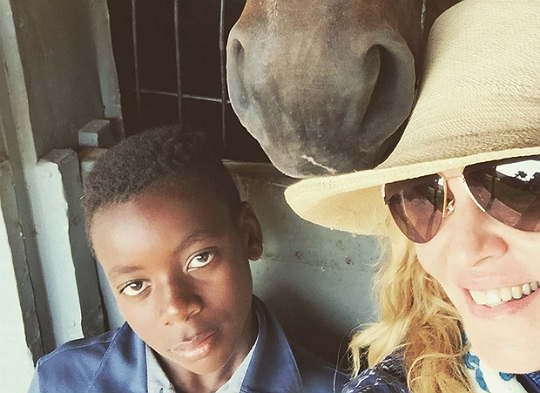 David Banda is going places. The son of Pop star Madonna recently showed of his musical skills while singing and playing the guitar to 'Devil Pray.'
Little David was picking the strings and singing all of the right notes in the video footage. One fan even had to ask if the youngster displaying such talent was David because of the immense expertise put forth by the tween. "Teach Me How To Pray……,,,,,thats what children do," wrote Madonna.
This isn't the first time that David has been in the spotlight. The youngster made a memorable appearance alongside his mom at the 2014 Grammy Awards that impressed fans and critics of Madonna. David wore a tuxedo that was in fashion sync with his mom's suit. "For this look, I followed his lead," said Madonna of her decision to wear a tux like her son. "He dressed me tonight," added the star. "He wanted me to dress like him, so I obeyed him."
David is one of four kids that Madonna parents. Watch the youngster play the guitar and sing the lyrics to his mom's song below.
https://instagram.com/p/5wX3EDmEco/