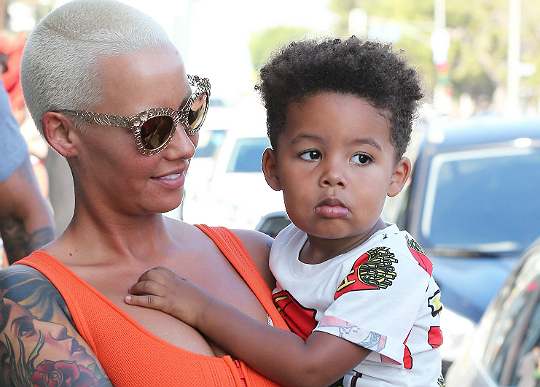 Along with motherhood comes the art of multitasking. Amber Rose knows this, and was photographed putting the concept into action during a shopping day in West Hollywood with her son, Sebastian, on Wednesday. The celebrity mom held her little one while keeping a firm grip on her handbag and shopping tote. "Mommies do it all," captioned Amber underneath the pic on Instagram.
Sebastian was sporting a cute hair cut in the candid. While the top portion of his mane was long, the back was cut a bit shorter. The little one took in his surroundings while being carried by mom. Isn't he adorable?
Although she has been given numerous opportunities to hire a nanny to care for her son while she develops her career, Amber has told media that she prefers the more active parental role when it comes to Sebastian. "I'm not comfortable with anyone else raising my son besides me," said Rose during an interview with VladTV.
The artist also told the media source that she had a myriad of songs but refused to record and promote them if it meant being away from Sebastian for extended periods of time. "He shouldn't be out traveling," explained Rose. "He should be home. He should be comfortable and he should be home."
Sebastian is Amber's only child with her estranged husband Wiz Khalifa. He celebrated his second birthday in February. See more candids of the tot below!
https://instagram.com/p/5v6OFJEq9Y/?taken-by=amberrose
https://instagram.com/p/5swFmXEq7C/?taken-by=amberrose
https://instagram.com/p/5sw1NXkq8P/?taken-by=amberrose
Photos: Fameflynet/Instagram