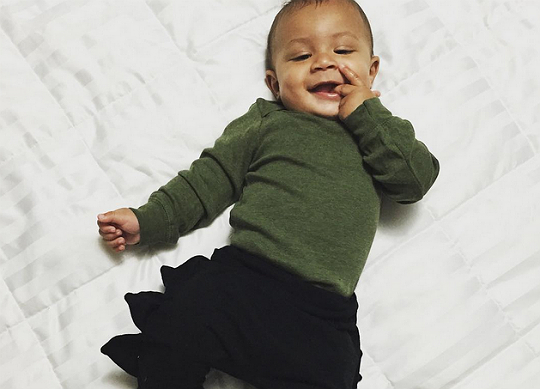 Zion Babbs is one happy baby. If you asked his mom, Zena Foster, she would tell you that her son brings immense joy to the family.
The celebrity parent recently shared footage of her little one during bed time. Zion couldn't stop laughing long enough to fall asleep. He became even more excited when his mom attempted to settle him down with a bib. "They say this puts a baby to sleep," captioned Foster underneath footage of her son. "Yeah right," shared the mom.
Although getting him to sleep was a challenge, Zena told fans that she was "so grateful to have the happiest baby in the world." She added, "I'm the luckiest girl in the world because I get to wake up to this face every morning."
Zion was introduced by his parents in May with a cute candid of him wearing a Cookie Monster outfit. "My Zizi #Zion 4 months today… Mommy loves you so super much!!! #ThisFace #BabySinatra," shared Zena. Proud papa Tank also commented on his son's growth. "Four months already! Time flies when you're having fun. Daddy loves you."
Zena and Tank have two kids, Zion and Zoey, together. Little Zion was born on New Year's Day.
https://instagram.com/p/4-8GTHnt8_/
https://instagram.com/p/5SkbUWnt6C/