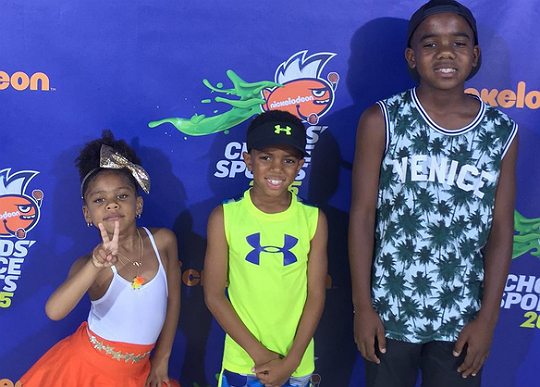 The Taylor kids were "in the house" at the 2015 Nickelodeon Kids' Choice Sports Awards. Cali, King and Harlem made a good showing at UCLA's Pauley Pavilion on Thursday night.
"I love them," shared Tiffney Cambridge along with a picture of the Taylor kids on the orange carpet. Cali gave the cameras attitude while King and Harlem simply smiled. The youngsters took a number of candids with celebrity friends, which included Carmelo Anthony and Stephen Curry, while in the venue. Cali even stood next to Stephen's daughter, Riley, in one picture. She gave the camera a sign of peace while Riley enjoyed her bag of chips.
Tiffney has been quite busy since releasing her children's book, The Little Girl Who Lost Her Smile, earlier this year. Although she has a lot on her plate, the celebrity mom remains focused.
"It's really just about being organized, and structured, and staying on a schedule, and just being able to know what my limits are," said the author during an interview earlier this year. "I try not to push myself too hard but at the same time, I try to get as much done as I can get done in a day's span."
Tiffney has two kids, Cali and King, with Jayceon Taylor, a.k.a. The Game. Harlem is Jayceon's son from a previous relationship.
https://instagram.com/p/5Ofiz8r3oX/