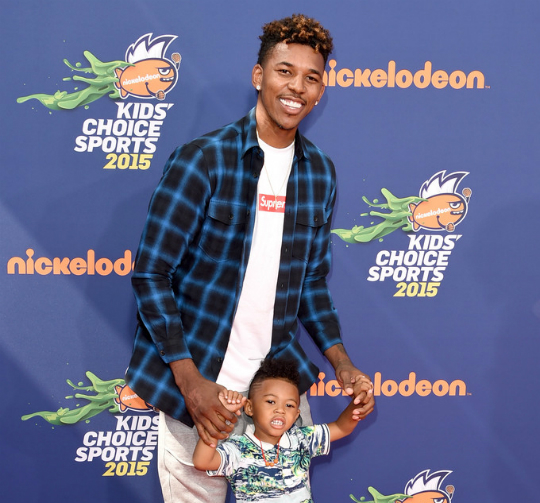 Nick Young and his son, Nick Jr., were two of many stars to attend Nickelodeon's Kids' Choice Sports Awards on Thursday. The NBA star held his son while making an appearance on the orange carpet.
Little Nick was, for the most part, cooperative with photographers. There was a point, near the end of the carpet appearance, where little Nick expressed his desire to leave the spotlight. "Children are tired," yelled one photographer. Big Nick shook his head in affirmation of his son being one of the weary ones.
The 3-year-old has been doing a lot in entertainment and fashion. In fact, little Nick is helping his mom promote her children's clothing line that was inspired and named after him. Ke'onna Green decided to design her own brand after unsuccessfully searching high and low for clothes that suited her son. She debuted Young's Playhouse earlier this year in hopes of adding new flavor to kids' fashion.
Nick Jr. is Ke'onna's only child with Nick Young Sr. The toddler celebrated his third birthday in March.
Photo: Getty Images