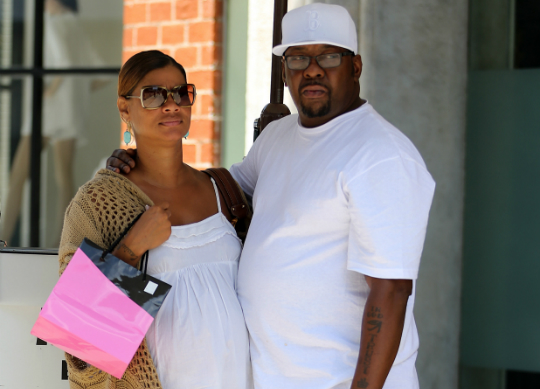 Bobby Brown and wife Alicia Etheredge-Brown have something to smile about. The couple welcomed their second child, a girl, over the weekend.
"Bobby Brown finally has some happy news to share," reports E! News. "The New Edition singer and his wife Alicia Etheredge-Brown welcomed a baby girl at Cedars-Sinai Hospital in Los Angeles Saturday, Brown's rep confirmed to E! News." The couple's daughter came as a surprise as the Browns decided to refrain from learning of the sex of their child during expectancy.
Alicia enjoyed a beautiful baby shower in celebration of her impending birth a few weeks ago. The expectant mom was hailed as the queen of the party as she sat in the biggest chair at the event and was lavished with gifts.
TMZ reported Alicia's pregnancy in February by telling its readers that she was in her second trimester of expectancy. Bobby and Alicia later confirmed such news to be true. This is the couple's second child. Alicia and Bobby Brown also have a son named Cassius. The New Edition singer has six kids in all.