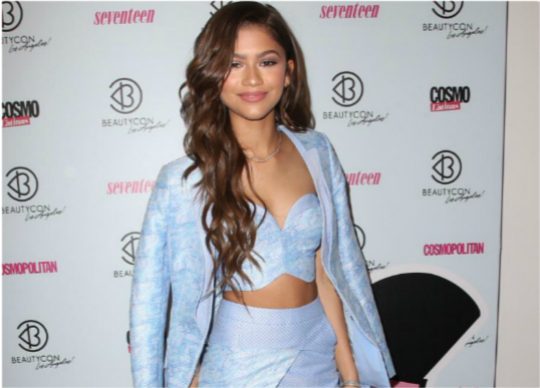 Zendaya Coleman stunned this past weekend at the fourth annual BeautyCon event in Los Angeles, California. The young star wore a powder blue wrap skirt with matching top and jacket that was unbelievably edgy yet professional.
The designer wear let Zendaya show a bit of skin as its top revealed the entertainer's stomach. The skirt was also a bit on the adventurous side with a split that rode up Zendaya's right thigh. Even with all of these unique features, Miss Coleman kept her outfit classy with a jacket that, when combined with the skirt and top, made for a professional appeal.
Zendaya has admitted to media that her fashion sense is daring. "Style-wise, I am fearless," said the star during one interview. "I used to be very afraid until [my stylist] Law [Roach] got into my life. He pushes me to try new things, I push him to try new things, and we inspire each other as we go along. Everything kind of happens very organically and yeah, I would say [I am] fearless."
See more pictures of the young star's outfit at BeautyCon below!
Photos: zendaya.com