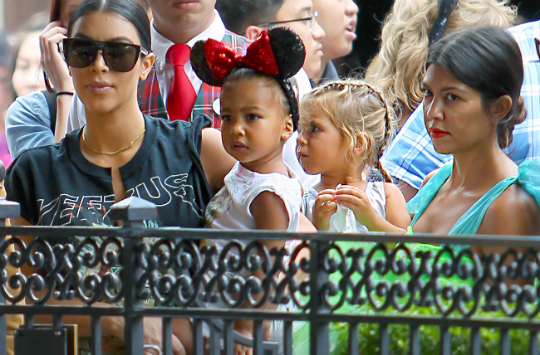 North West joined her cousin, Penelope, in celebrating her third birthday at Disneyland earlier this week. The 2-year-old wore her beloved Mini Mouse ears while touring the park for the second time this summer.
North walked and was chauffeured around in a double stroller. The youngster engaged in friendly conversation at one point as the family's nanny pushed her and Penelope around. Although she ordinarily doesn't interact with paparazzi, North was captured while waving at photographers during her visit. How cute!
It was just a few weeks ago that the Kardashians were at Disneyland celebrating North's birthday. The little one showed her love for Mini Mouse during her celebration as well with a bit of facial art that showcased the signature red bow that Mini wears.
North will soon be a big sister as her mom and dad, Kim and Kanye West, are expecting a son to arrive in winter. While many are expecting the couple to name him 'South,' Kim has told media that she and Kanye have different plans. "It's not South," said Kim during a recent interview. "I will say that," added the star. "Everyone is thinking it's 'South' and that's like really dumb to me."
Kim and Kanye West are expecting their second child together. See more pictures of North below!
Photo: CPR/FAMEFLYNET PICTURES