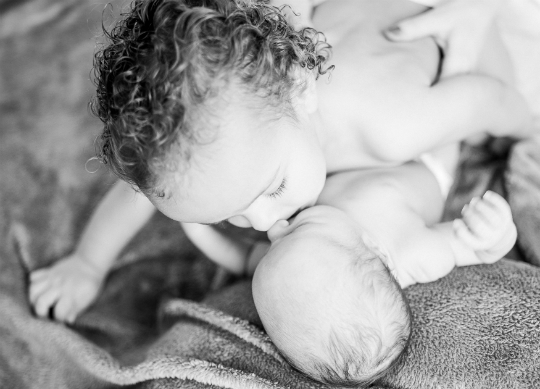 Life as the mother of an infant and toddler is not easy; just ask Angela Ribeiro. The wife of Alfonso Ribeiro tells blog readers that her sons, AJ and Anders, have an abundance of energy that she and Alfonso attempt to channel.
"Adjusting to life with two under two is a lot like getting comfortable with a hurricane and a tornado occurring at the same time," writes the celebrity mom. "Currently, the name of the game is defense," adds Angela. "AJ is an extremely active and energetic toddler. He's not aggressive, but because of his excitement when it comes to playing with his toys, he indirectly becomes a safety-hazard to Anders. Fortunately, Alfonso and I have developed mad defensive skills in blocking the toys and balls thrown in Anders direction."
Although the past few weeks have been challenging, Angela is managing to better coordinate things around the house. "I'm starting to get a bit of a routine down and learning some tricks as I go," shares the star. "I've learned the fabulous method of changing their diapers at the same time. I've been perfecting my routine of ensuring Anders sleeps during AJ's only nap of the day so that I can have some 'me' time."
While she is able to have time to herself at home, thanks to her scheduling abilities, Angela admits that traveling with the kids is a bit different. "I'm more concerned about the two out of nine flights in July that involve flying with my two little guys without Alfonso," says Angela of pending engagements that require airways travels. "I've witnessed lots of mothers fly solo with their little ones. I've seen everything from complete train wrecks to end-of-the-flight high-fives for the mom from nearby passengers. I certainly hope to be among the latter."
Angela and Alfonso Ribeiro have two kids together. Alfonso also has a daughter named Sienna from a previous relationship.