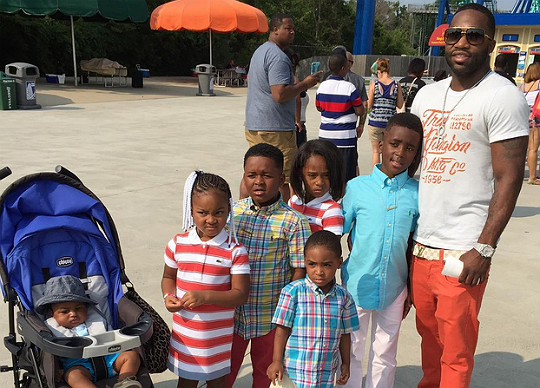 The Fourth of July was a fulfilling day for Adrien Broner who spent the holiday with all six of his kids. The professional boxer's girlfriend, Arie Nicole, recently shared pictures of the family with Instagram fans.
"Happy 4th of July from the Broner family," captioned Arie underneath a picture of Adrien with the kids. The picture was a bit humorous as all of the kids, with the exception of the two youngest members of the bunch, stood in order by height. Even Arie chuckled at the sight.
Although he has experienced his share of challenges as a parent and professional athlete, Adrien is a changed man. "I'm a new man," said the star before the arrival of his son Adrieon. "It comes with growing up," added Broner. "I can't be as wild as I use to be because my career is only going up. And with more kids, they're starting to want to do what I do. So I really can't keep cussing because then they're going to want to cuss and think that's cool … and that ain't cool."
Adrien Broner and Arie Nicole welcomed Adrieon a few months ago. See more pictures of the Broners below!