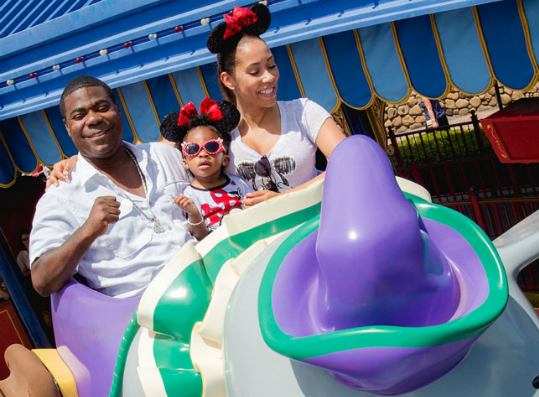 Tracy Morgan spent Independence weekend with his family at Disney World in Orlando, Florida. The comedian was joyous while riding on Dumbo the Flying Elephant with his fiancee, Megan Wollover, and daughter Maven.
Morgan is in amazing spirits a year after being involved in a car accident that claimed the life of his good friend, James McNair, last year. Although he is still in recovery mode, Tracy tells media that he is focused on getting better for the sake of his fiancee and daughter. "I think I'm at 75 percent," says Morgan. "I have my good days and I have my bad days … I just want to get better and become healthy."
The comedian discussed his feelings about the accident during an interview with Matt Lauer of TODAY. "I lost it for about a week," said the star of his reaction upon hearing of his friend's death. "I had to pay my respects."
Tracy Morgan was seriously injured last June when a Wal-Mart tractor trailer collided with his tour bus. The comedian has four kids in all.
Photos: Chloe Rice/ Disney