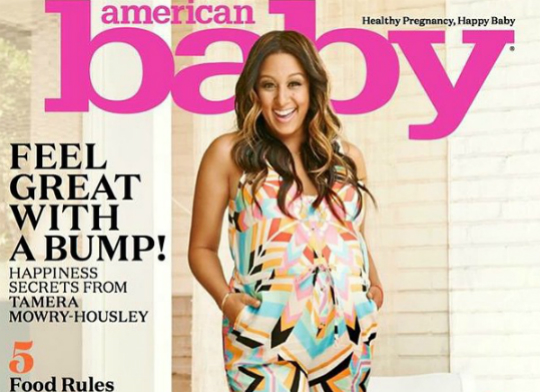 Tamera Mowry-Housley is fabulously pregnant. The 'Real' co-host shares her experience with expectancy the second time around with American Baby magazine. Check out the advice that she gives pregnant moms like herself.
Embrace heightened senses and weird dreams.
"I feel so sorry for my husband, Adam. He wears cologne, and when I'm pregnant I can't stand its smell — or even the scent of his deodorant. He takes a shower before bed. My dreams get worse when I'm pregnant and close to my due date. I dream my baby's going to just pop out and fall. But everyone tells me dreams like this are normal."
Take a picture of your neat nursery … it won't be that way after the baby is born.
"I remember being in Aden's nursery before he was born, making sure everything was clean and tidy. I was with Tia [Mowry, my twin sister], and she started chuckling. When I asked her why she was laughing, she said, 'Enjoy the room and how it looks now, because once you have the baby, his stuff is going to be all over the place.' Of course, she was right!"
Don't rush to lose the baby weight.
"After Aden, I thought I'd have my flat stomach back in a month by nursing. But I didn't! I wondered, 'What is wrong with me?' But my pediatrician said that there are some women who keep on 15 pounds when they are nursing, while others burn fat like crazy. I could not lose the last 15 pounds until Aden was weaned."
Tiredness is normal when you are pregnant and already have a child.
"When you're pregnant and have a toddler, you are sleepy all the time. With my first pregnancy, I could nap whenever I wanted to, and I had fewer dishes and clothes to wash. And while getting to the gym is hard in general, when you're a mom, it's so difficult. Plus, while everyone else may be kinder to you when you're pregnant, your toddler doesn't take it easier on you at all. You have to keep up!"
Read Tamara's full interview in the July issue of American Baby that is available at newsstands nationwide!