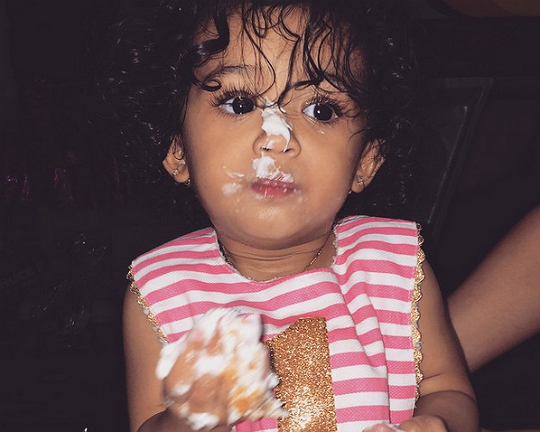 Cake and a bib that bore the number one on it were all that Royalty Brown needed to ring in her first birthday. Of course, the little one had much more than that with family members ad friends by her side to help her celebrate.
The daughter of singer Chris Brown had a memorable party on Wednesday with mom, Nia Guzman, and a number of other loved ones gathered around. Jas Prince, Royalty's godfather, was overjoyed to attend the festivities and took a number of pictures with the birthday girl. "Ok I'm a princess and it's my bday," shared the star along with one picture of Royalty leaning against a chair while holding a pink crown. Jas Prince was also photographed while holding the 1-year-old. "Happy bday to my God baby #Royalty," captioned the celebrity.
Nia Guzman was definitely excited to celebrate her daughter's first birthday, which is a milestone in a number of ways. The exuberant mom shared a picture of herself with Royalty that featured Nia smiling to no end. "Love u," captioned Guzman. Royalty's other father figure, Brazil Riesling, was also at the party and was filmed while interacting with the birthday star.
Royalty is Nia's only child with Chris Brown. Although the little one was born last year, it wasn't until a few months ago that the general public learned of her birth. Chris refrained from introducing his daughter to the world during her newborn months but he now proudly shares pictures of his princess with Instagram fans.
Royalty Brown was born on May 27, 2015. See more pictures of the little one below!