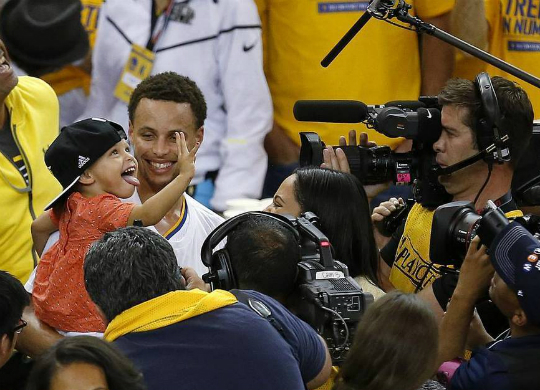 Riley is at it again! Stephen Curry brought his daughter to the post-game press conference after last night's game and she, once again, stole the show.
The Golden State Warriors star carried his daughter in his arms while walking into the venue. It at first appeared as if Riley would give a calmer presentation but the 2-year-old gave off a yawn before questioning began that signified otherwise. "I think she's taking advantage of the moment for sure," said Stephen to one reporter who posed a question about his daughter. "She's way to comfortable," added the star. Riley certainly wasn't shy to step into the spotlight as she told the press, "I feel blessed."
It was just a few days ago that Stephen brought his daughter to the post-game press conference after Game One of the Western Finals. The 2-year-old was the exuberant one who climbed underneath the table during questioning and told her father that the microphone was "too loud."
"I didn't know how she was going to act because that's the first time I've ever brought her up there," said Curry of his daughter's behavior during her first press conference showing. "Once she started laughing after the first question when she heard my voice in the microphone, I knew it was going to be downhill from there."
Riley is Stephen and Ayesha Curry's first child together. The couple are expecting their second little one to arrive in July.