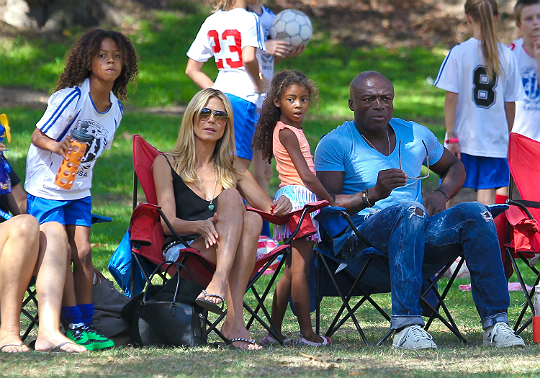 Heidi Klum and Seal are parenting together. The model and her estranged husband were recently spotted at a soccer game in which their kids were playing on Saturday.
Leni, Henry, Johan, and Lou played with other members of the team as mom and dad looked on with delight. The kids were especially happy to see dad, and took turns sitting on his lap when they were not playing on the field.
Heidi and Seal are not often seen together but never miss an opportunity to support their kids. The celebs have been spotted with their little ones at theme parks and sports games, and have gotten along well in all instances.
In addition to spending time with her little ones in public, Heidi takes time to cherish the moments in the the kitchen with her sons and daughters. "[My kids] cook everything with me," said Klum during a recent interview with Us Weekly. "They barbecue with me, they chop with me. The little one washes."
The 'Project Runway' judge further explained, "Everyone has their part to do, because I think it's important they see how food is made, how a dish is made. A lot of younger people nowadays don't know how to cook. No one taught them. So I think it's important to teach that to them."
Heidi and Seal co-parent four kids together.
Photos: Splashnews