As usual, Beyonce stole the show – the VMA show that is. After an impressive 20-minute performance, a short-hand of her entire 2013 album, Beyonce was met on stage by her husband and daughter who graciously presented the artist with the Vanguard Award. Hip Hop mogul Jay-Z couldn't hand over the award without first being sure to share beautiful words. He said, "the recipient of the Michael Jackson Vanguard Award, and the greatest living entertainer, Beyonce!"
"Yay Mommy" Little Blue exclaimed into the mic.
Still donning the sparkling body suit over fishnets, showing off her booty-licious-ness, the singer couldn't help but get emotional. She proclaimed that she was "so full" of sentiments, despite having "nothing to say." Of course, she was simply overwhelmed by the amazing moment. "I love you all so much," she added.
But her moment was hardly over. By the end of the night, Beyonce scooped up four awards! Backstage she posed happily in a stunning red dress, arms full of accolades. After blowing away the audience with her over-the-top performance, it was clear that she had earned each and every one. Even baby Blue couldn't help but feel the excitement, she bopped away on daddy's knee throughout her mother's number.
Former Destiny's Child group-mate Kelly Rowland also had a VIP seat with the family. The expecting mommy looked so proud of her friend as she grooved along.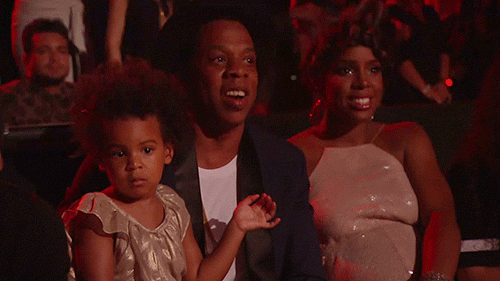 https://www.youtube.com/watch?v=sPn7DXnNBuY
Photos: GettyImages/Wireimage/Instagram/Tumblr