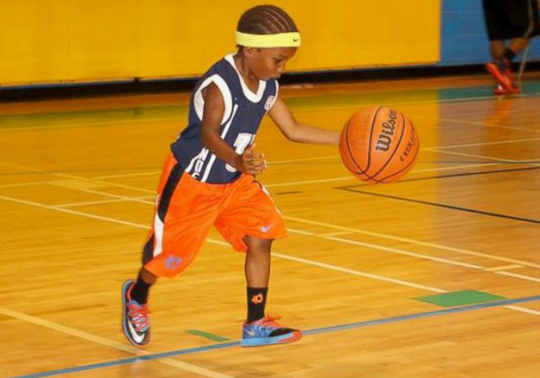 Dribbling with both hands, a fancy spin-shoot, and shooting around the back – no, we aren't talking about an NBA star… yet. So far, Josiah Brown is just a 4-year-old basketball sensation.
The Wilmington, North Carolina, YMCA regular is garnering a lot of local attention these days as people are beginning to notice his keen abilities. Playing against, and winning against, kids twice his age, Josiah is not afraid to admit he's got game. While being interviewed by WWAY News, Josiah was asked, "do you think you're the best 4 year old basketball player in Wilmington?", and did not hesitate to respond with a simple, but firm, "yes."
"From the time he started walking, we had a Little Tikes basketball [hoop] in the house, and he just took to it," proud dad, Demetrius Brown explained. "Pretty much all the fundamentals that most kids in their teens are working on, he's working on at four years old." And is it ever paying off. At the Muggsy Bogues Fundamentals Basketball Camp in Charlotte, not only did Brown's team win, but he also won the free-throw competition for 6-9 year-olds, despite being only 4. And his small size doesn't hinder his game in the least, he even scores on the 10-ft regulation net. However, for now there is one thing he can't pull off -"I can't dunk!" the recent pre-school graduate stated.
Josiah was also one of only two campers to receive special recognition by Muggsy Bogues, former NBA player, himself.
<iframe width="540″ height="315″ src="//www.youtube.com/embed/qrzseAoa0j0?rel=0″ frameborder="0″ allowfullscreen></iframe>