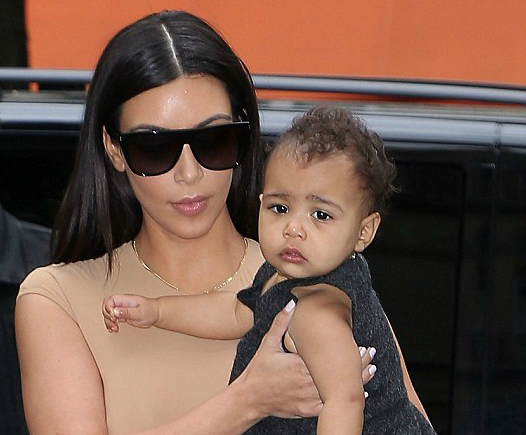 Kim Kardashian recently chatted with Elle magazine, alongside sisters Kourtney and Khloe, about fashion for expecting mamas and babies alike.
In a controversial response to being asked what fashion advice she has for pregnant ladies, Kim, first time mom of one year old North West, advised expecting women to simply hide in their homes. "I recommend hiding for a good year and having no pregnancy style… If you can do it, hide. Never leave the house." Meanwhile, Kim's sister Kourtney, who is expecting baby no.3, admits she's all about comfort when it comes to dressing with a baby bump. "This is the Kardashian Kollection," she said referring to her outfit, "and it's just a size bigger than I would normally get."
Of course, Kim has been very open about her dislike of pregnancy, and her own personal struggles with it. But coaxed by Khloe,  the reality star gave in and provided a more valuable tip: "I will say A Pea in the Pod saved my life—at the end of my pregnancy". She has since argued that she was speaking in a jokingly manner – a little self-depricating humor in allusion to her own bad experiences. "I guess you can't be sarcastic when doing interviews!" she tweeted. "I jokingly said pregnant woman should hide/stay in if they looked like I did lol."
On the topic of baby-style, Kim had more to say, excitedly discussing North's fashion sense. "North doesn't really like pink. Like, she's very neutral…she doesn't like prints… She hasn't liked it for her whole life."
Being that North is only one, younger sister Khloe was quick to point out that a child's sense of style is merely a reflection of her parents. "Kim and Kanye determine, and that's what parents do." Kourtney agreed, reiterating, "Kim and Kanye don't like pink or prints." North's went on to explain that she considers her daughter "princess girly, but in creams." According to Khloe, though, princess-y is not the best way to describe North. "She's like badass. Like, 'I'm North.' She's very confident in who she is".
It seems she is a stunningly self-aware little girl – but treated like a princess nonetheless by Kim, proud daddy Kanye West, and everyone else who loves her.