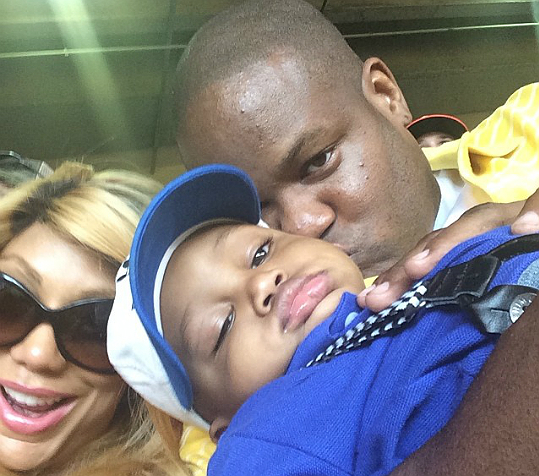 Singer Tamar Braxton-Herbert says she's amazed by how quickly her son Logan is growing up. Now 13 months old, she says "he's not a baby anymore." Instead, it seems Logan is a little man – "He's walking, he's talking, he's playing piano – …it's crazy".
The 37 year old first time mom boasts about the close bond she shares with her son. "Logan goes with me everywhere and brings a normalcy to everything. I make sure he knows I'm his mother and I put him to bed every night and he wakes up to me." But don't be fooled, he definitely has his fill of father-son bonding as well.
His look "is just like Vince's" she explains to People. "They have some of the same clothes and it's the funniest thing. They both wear caps. It's like his mini-me".
She and record executive Vince Herbert have been married since 2008. The couple met through her sister, r&b icon, Toni Braxton. They are currently shooting for their reality TV show, Tamar & Vince, and she is also continuing on with Braxton Family Values, a reality show featuring her and her sisters. But Tamar notes that the upcoming season (August 2014) will be very different. "We're just trying to find our place and where we fit in the sisterhood."
The reality star is also grateful to her sisters for setting wonderful examples of motherhood for her. "My sisters are great mothers… Now, for the first time in our lives, we're all mothers."
Photos: Instagram