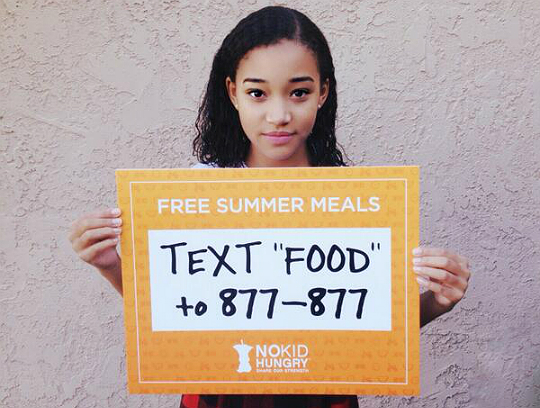 Actress Amandla Stenberg continues the fight against hunger. Since her acclaimed role in 2012's blockbuster The Hunger Games, the teen star has worked to make noticeable that the real issues of poverty and hunger are part of our everyday realities. She teamed up with Share Our Strength's "No Kid Hungry" organization (team NKH) and even took the Live Below the Line challenge. Her goal as part of these organizations is to end child hunger across America. She has said, "Food is such a basic human need. And I just know that we can provide for every kid in this country."
Established in 1989, No Kid Hungry recognizes child hunger as a national crisis and attempts to raise awareness about the importance of school breakfasts. The program collects donations in order to make these breakfasts happen, and these donations are matched dollar for dollar by several different organizations.
Just last month, Team NKH recognized Amandla's philanthropic efforts on Twitter, publicly thanking her for her dedication.  The teen currently has a recurring role on Sleepy Hollow and an upcoming lead role on Mr. Robinson.